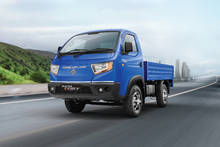 5 Reviews
₹ 7.75 - ₹ 7.99 Lakh*
*Ex-showroom Price in New Delhi
BADA DOST User Reviews
Best LCV from Leyland.

Bada Dost is bada in milage, cargo deck and cabin comfort. Price is reasonable.

Good for village and town cargo operations.

Ashok Leyland has made a best vehicle the Bada Dost. I'm planning to buy this truck for electric items. How is the mileage? Price in Madurai, Tamil Nadu?

Good for Cargo Delievery

If you want to buy Bada Dost, I recommend the i3 variant for lower price but the performance is good. Nice LCV vehicle for every cargo delivery.

Easy to drive.

Bada Dost i3 and i4 variant offer best features in the segment, big payload is benefit of this truck. But I think the mileage is little lower.

ower maintenance.

purchased Ashok Leyland Bada Dost in December 2020 for carrying frozen goods. I ship Amul ice cream in Jaipur, everyday 75-100 km running with conatiner body. The performance of Bada Dost is good so far. The mileage is okay, I liked the cabin comfort and easy to drive features. AC makes is highly effective cabin. I recommend this truck to anyone for business, you can earn revenue with the high mileage.
Compare of BADA DOST Competitors

Popular Ashok Leyland Trucks