Tata 407 Gold SFC User Reviews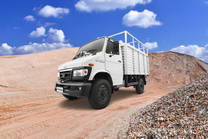 18 Reviews
₹ 10.75 - ₹ 13.26 Lakh*
*Ex-showroom Price in New Delhi
407 Gold SFC User Reviews
Halakē/bhārī kāragō la'ī vadhī'ā LCV

Halakē atē bhārī kāragō laujisaṭikasa la'ī vadhī'ā LCV māḍala. Maiṁ pichalē dō sālāṁ tōṁ 407 BS6 dī varatōṁ kara rihā/rahī hāṁ. Isa ṭāṭā lcv dā bahuta vadhī'ā pradaraśana, mā'īlēja, pāvara atē ṭāraka śahira vica mērē rōzānā 200 palasa dī dauṛa la'ī sabha tōṁ vadhī'ā hai. Jēkara tusīṁ kharīdaṇa dī yōjanā baṇā rahē hō tāṁ isa sāla lān̄ca kītē ga'ē navēṁ vērī'aiṇṭa la'ī jā'ō. Kīmata vadha hai para tuhānū hōra viśēśatāvāṁ mila rahī'āṁ hana. Ṭāṭā 407 bhārata vica kisē vī samēṁ sabha tōṁ vadhī'ā 5-ṭana hai. Vadhērē lābha atē ghaṭa rakha-rakhā'a

India's favourite, now even better

The Tata 407 GOLD is an amazing light truck and one of the best you can buy at its price and in the segment. The Tata 407 has been an extremely popular model all across the Indian market and has always been a top choice for medium distance goods carriage, especially through urban passages. The new 407 GOLD simply brings the best of that, only in a better package. The truck is now more capable, efficient and comfortable to drive. The cabin is spacious and gets a range of features for enhanced convenience and a seamless journey.

అత్యంత సిఫార్సు.

సుప్రో అధిక మైలేజీతో భారతదేశంలో నంబర్ 1 ట్రక్. మహీంద్రా ఈ ట్రక్కును bs6 ఇంజన్‌లో మరింత ఫీచర్‌తో మెరుగుపరిచింది మరియు ఇంజిన్ శబ్దం చేయదు. నేను 2021 ఫిబ్రవరిలో Supro miniని కొనుగోలు చేసాను, పనితీరులో సమస్య లేదు. మార్కెట్ లోడ్ మరియు భారీ పార్శిల్‌కు కూడా చాలా మంచిది. అత్యంత సిఫార్సు.

Decent truck ek acchi payload capacity k sath

Tata 407 Gold mere business k liye bahot hi kefayti sabit hui hai. Kyunki yeh bahot hi zyada load utha sakti hai mujhe aaj tak ispe koi pareshaani nai hui hai. Par is truck ki ek hi samasya hai jo ki hai iski mileage. Iski around 10 kmpl mileage and 60 litre ki fuel tank bohot hi dikkat deti hein kyunki bar bar fuel breaks lena pdhta hein. Indono ke ilaba yeh truck ki sabhi features bohot hi accha hein.

Desh ka favourite

Light trucks mein Tata 407 hamesha hi Indian market mein raaj kiya hai. Aj bhi kar rahi hai. Aur maine khud kuch mahine pehle Tata 407 GOLD khareed liya. Tab se lekey aj tak, almost daily maine isko chalaya. Mujhey sab kuch pasand hai is truck ka abhi tak, lekin jo features best hai, woh iska power aur comfort factor. Load dalkey aap bas nikal jaiye aapko jahan jana hai aur yeh truck apko koi problem ke bina udhar pohucha degi. Tata 407 Gold sach mein hi ek bohot hi capable truck hai jo uski khud ka reputation deserve karta hai.

high mileage

407 giving me high mileage of 12-13 kmpl with 3.5T payload. Already crossed 50,000 km for market load. No problem in performance, very top class quality by Tata motors. You can buy this light truck for anytime, no compeition to this tata truck.

Best truck in India

Best truck in India. Tata is the best and 407 is king

Very impress with 407 BS 6

engine is more good, cabin also getting features and overall cargo body increased. Well job by Tata with the 407 truck. Number one Gadi in LCV.

performance is perfect.

Purchased last years, performance is perfect. Very good driving conditions and payload more with mileage. Go for LCV truck only Tata. 407 is always the top truck…

Best Tata truck in India

Best Tata truck in India in LCV. Used for any cargo load, you get high mileage, big cargo deck size and easy to drive in city, high and also village roads. Tata 407 has no competition in the market.

liked the features inside the cabin

407 is the best LCV truck you can buy in the segment. I'm buying this truck in Coimbatore, went to the dealership to check out the truck. I liked the new design, bigger cargo deck and price also. The cabin offers more room and space for storage, I also liked the features inside the cabin like the seats, music system, glove box and dashboard.

better handling.

I think the BS4 407 was better than the BS6 because of the light weight and better handling. I have driven the new 407 which is good but the driving and handling is not like the earlier truck. ALso, mileage and maintenance will be a major factor before buying this truck.

better than competition in the segment.

Tata 407 in the BS6 engine is now a more powerful and high mileage LCV truck. But I think the price is high because of the new technology, so many customers will hesitate to buy this truck. But if you want a reliable LCV then nothing like 407 and better than competition in the segment.

value for money

Tata Motors best selling LCV that is suitable for every cargo delivery in city or town. 407 is the ultimate pickup truck for carrying light, heavy or volume of logistics on any terrain. The stronger built quality, high mileage and lower maintenance of this truck is most appealing. I'm using the 407 in Chennai and suburbs for delivering market load, industrial material and also fruits and vegetables. I like the look of this truck, the higher power and stylish look. Anybody looking for a value for money truck can go for Tata 407.

Vibration problem

Engine was produced very more vibration and journey was not comfortable to driver and codriver very bad journey

Best Truck

I like the SFC cabin of this truck. Safe and comfortable too. But Tata should increase the tyre size of this truck for village use. Otherise first class truck, cost is not high, the resale value of this is high whenever you want to sell.

Nice LCV

India Cool LCV for every transporters needs. Use 407 for market load and general logistics, gets best mileage with low maintenance cost. No breakdown or technical issue, Tata service is cheapest.

Powerfull truck

) I'm using the old Tata 407 for 8 years in Hyderabad, not problem of this truck. Mileage, maintenace good, the truck gives me better pikup even with full load. Easy driving on any road. Buy this Tata LCV for all cargo/logstics needs in city or town. The new 407 cabin is even better, and the engine is also powerful but it become more costly.
Compare of 407 Gold SFC Competitors