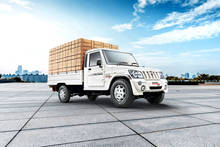 10 Reviews
From ₹ 7.02 Lakh*
*Ex-showroom Price in New Delhi
Bolero Maxitruck Plus User Reviews
Buy this vehicle to city load/transport/logistics

I use Maxi Truck pikup in Chennai. Strong truck but mileage is little low, but maintenance cost is super.

better than Dost

Maxi Truck Plus a high mileage pikcup for all types market loads. Big power and cargo body. Number one Mahindra truck better than Dost. You can buy.

Maxitruck is awesome pickup

liked the built quality and also the service offered by Mahindra. The cabin interior of this pikup is good, you get a car like experience inside with a lot of driver friendly features. Overall strong pikup that can take on all cargo needs. I would highly recommend this vehicle for logistics/transport business friends.

Best Pickup with BS6

Bolero Maxi Truck is the best pickup with BS6 compliant. It's performance, mileage everything is too good. I didn't find any issue till now. Easy to drive, no frequent services are required. I'm very much satisfied with its performance. It gives comfortable driving, didn't find any difficulties in off-roading as well. It's powerful as well.

Bolero Maxitruck Plus- Best pickup

It's a nice commercial vehicle for the loading purpose. 4 cylinder engine gives good mileage and speed to this maxitruck. Payload capacity is great for a pickup and leaf spring suspension helps in carrying heavy material. Does not comes with so many features but good as a pickup. Using since last 2 years but have not to face any serious issue.

Bolero Maxitruck Plus- Best pickup

Best pick up with the powerful 2523 cc engine. Comfortable in driving as it has features like driver information display, power steering, parking brakes. Also give enough good mileage for a pickup. A complete small commercial vehicle in low budget.

Stylish Pickup – Bolero Maxi Plus

Fun to Drive because of it's short turning radius, power steering which smoothly rides on road and offroad as well also has attractive headlights, front grille and fog lamps. Payload capacity of 1150 kg which is great for regular pickups in city for daily purpose.

Optimal city truck with a powerful engine

A year ago, I bought the Bolero Maxi TruckPlus for my newly found venture. This decision of mine has been the best so far as this truck has really been a very nice option for me. It performs quite good and the mileage it provides is also decent. Also, the handling of the vehicle is excellent in almost every form of terrain I used it in. The low maintenance cost has been a cost-effective measure for my business and has made me a decent profit. Overall, if one is tight on budget and is looking for a small commercial vehicle, he should go for the Bolero Maxi TruckPlus.

I highly recommend buying this truck

Mera truck sabhi truck sey accha h aur iska jo aaram dayak cabin h wo mujhe kabhi thakne nhi deta

I highly recommend buying this truck

People are soo confused between pickup and maxi truck plus but I recommend pick up for heavy load and maxi trick plus for regular use. Mileage of maxi trick is better compare to pick up. In a place like ladakh, this kind of vehicles is much needed and very helpful.
Compare of Bolero Maxitruck Plus Competitors