Mahindra Bolero Maxitruck Plus User Reviews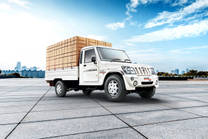 35 Reviews
From ₹7.02 Lakh*
*Ex-showroom Price in New Delhi
Bolero Maxitruck Plus User Reviews
Bolero Maxitruck Plus ki design kaafi strong hai

Mahindra Bolero Maxitruck Plus ki design kaafi strong hai aur iski build quality bahut achhi hai. Iska cabin bahut spacious hai aur ismein comfortable seats hai. Ek aur cheez jo mujhe is truck mein pasand hai, woh hai iska low maintenance cost. Iske parts bhi aasani se mil jaate hai aur iska servise bhi bahut asaan hai. Ismein Adjustable Driver Seat, power steering aur Driver Information Display jaise features bhi hai.

Bolero Maxitruck Plus is the best Commercial Truck

I own 3 mahindra Maxitrucks for subletting business, these light commercial vehicle's have very low maintenance and have long life. Mahindra is a famous company and provide guarantee and warranty for their vehicle. It is trusting brand. The body of Bolero Maxitruck is very strong. The loading capacity of 1200kg is also good. Power steering also works smoothly. Overall it is best LCV for commercial use.

Acchi size aur capacity

Mahindra Bolero Maxitruck Plus ek kaafi acchi package hai pickup truck segment mein. Last mile cargo delivery ke liye bohot hi upyogi aur faydemaand truck hai yeh. Iski performance aur load capacity toh accha hai hi, aur uske saath saath hai is truck ki lajawab load body size aur cabin space. Sab milake ek bharosemand pickup jo koi bhi khareed sakte hai.

Large in size and capacity

In the past few months, my experience with the new Mahindra Bolero Maxitruck Plus has been really satisfying. The pickup truck is really powerful and when it comes to load capacity, it's really a capable vehicle that can even go slightly over its payload capacity, without any issues or faltering. Overall, the pickup is a really good package at a great price,

Spacious and powerful

If you want a commercial pickup but also need some extra cargo space and good performance, then the Mahindra Bolero Maxitruck Plus is a great choice for you. The truck is capable and powerful with a very reliable and smooth engine that delivers consistent power and performance even when the car is fully loaded. I have personally driven it for quite some distance, and even with full load the truck is smooth and seamless to drive.

Baadi size aur capacity

Bas kuch mahine se Bolero Maxitruck Plus chala raha hoon aur main abhi tak kaafi khush hoon. Kam cost aur kam price mein aisi badi aur strong truck bohot hi kam hai. Is truck ki loading area kaafi badi hai aur uske saath saath kaafi load leke bhi bina koi dikkat ke yeh gaari lambi sawari kar leti hai. Mileage ke hisab se profit bhi zyada hai aur business ke liye acchi choice hi yeh truck.

Problem with dpf

Waste apf money and time .. Worst by mahindra, I lost my every thing coz of that. Hell with pick up.

Baadi size, baadi capacity

Mahindra ki pickup segment ki vehicles mein Mahindra Bolero Maxitruck Plus sabse acchi vehicle hai. Kareeb 6 months ke drive baad mein yeh keh sakta hoon ki load capacity, power aur efficiency, har hisaab se yeh truck lajawab hai. Iski size bhi kaafi baadi hai, aur load body area kaafi spacious hai. Last mile cargo delivery ke liye perfect choice hai yeh truck.

Maxi Truck Bolero Truck best

Mahindra bolero pik ap truk kee bild kvaalitee behatar hai. Vishesh roop se, chesis kee taakat bhaaree saamagree le jaane ke lie achchhee hai. Gadi kee samagr nirmaan gunavatta achchhee hai, yahee kaaran hai ki yah chhote trak maalikon ke beech lokapriy hai.Mmain idnsturial meatieral ka audyogik saamaan le jaane ke lie apanee bolero pik-up upayog kar raha hoon. Yah balk lood ko vahan karata hai aur Gadi kee majabootee bhee madad karatee hai; Full load hone par bhee mailej kharaab nahin hai.

Good pickup for heavy loads

Bolero Maxitruck Plus is suitable for heavy loads carrying requirements. I'm using it to carry LPG cylinder in Chennai city areas. The power of the vehicle sufficient and the deck size is large to carry more numbers of cylinders. The mileage is also good even in full loads.

big variant of Bolero

Mahindr dvaara Bolero ka bahut achchha pikap vairient. Aap is pickup mein aasaanee se 2-tan kaargo le ja sakate hain kyonki bahut hee gunavatta vaale suspnesion aur bade cargo body ke kaaran. Aur no lost on mielage is vaahan kee sabase achchhee bat hai. Isake alaava kisee bhee sadak par pikap kee koee samasya nahin hai kyonki vaahan chalaana aasaan hai. Bs4 kee tulana mein bs6 cebin bhee aajakal bahut aaraamadaayak hai. Main bade payload vaahan praapt karane ke lie apana 5 sal purana Tata Ace tuck bech raha hoon aur bolero pikap sabase achchha vikalp ho sakata hai. Lekin keval bajat tang hai aur mere vyavasaay ke lie is pikap ko khareedane ke lie mangetar vikalp lene kee yojana bana raha hai.

Gud performance

,...........,................................ .....,...................................gud performance

Zyada load ke liye perfect option

Main bohot puchtaach ke baad Mahindra Bolero Maxitruck Plus kharreda ek saal pehley. Mere business ke liye mujhey ek sasta lekin accha capacity wala truck chahiye tha aur Bolero Maxitruck Plus mujhey perfect option laga tha. Iski price merey budget mein tha aur uskey saath looks bhi iski kaafi stylish hai. Driving comfort bhi lajawaab hai. Payload capacity bhi iss segment ka best hai aur dur ka sawaari ke liye bohot hi accha engine capability bhi ekdum sahi hai. Last mein, is price mein yahi ekdum perfect choice hai.

Best Pickup in India

Best Pickup in India. But check the onroad price of BS6, getting high and higher…also check tata and isuzu option.

best in India. Buy anytime.

Bolero pickup is best in India. Buy anytime.

Bolero is the best pickup in India.

Bolero is the best pickup in India. Maxi truck plus is not suitable for all application but only bigger load or special cargo. Better you buy Bolero city for any applications. Mahindra is offering good feature in the truck, and the wheelbase, suspension also improved to carry heavy load on bad roads. But I think price is higher of Bolero. Overall in pickup segment bolero is the only best options, strong and no breakdown on any road. You can run without issue. But maxitruck not get many safety features and also I think no misuch system in the truck. All you need to buy separately. Go for Bolero pickup for any time.

Best best quality

Mexi truck pickup driving best quality the charge just special driving on the road with bolero pickup

Go for any Bolero you will make good money

Mahindra Bolero pikup is number one Gaadi for any cargo/logistics needs. Mileage, big cargo deck, super engine, good cabin, power and torque, everything is done better by Mahindra, that is why this is the most famous vehicle among truck buyers. The resale value is also high. Go for any Bolero you will make good money, but use carefully to avoid maintenance cost.

go for the CNG varian

I think the Bolero Maxi Truck CNG is better than the Maxi Truck plus because the mileage is better and also no pollution. The CNG engine is also higher power and no torque issue, you can take any cargo delivery and it will do. The power and torque is not very different but the running cost is low so go for the CNG variant and not the diesel one.

liked the suspension

Bolero Maxi Truck Plus is a good last-mile vehicle for cargo delivery but Mahindra needs to give more features on this pikcup for some applications that are challenging. Like the I want bigger tyre, AC and safety features inside the cabin for running on hilly areas. But right now it is the best option in the market for the 1.5-2T payload category. I liked the suspension that helped to carry cargo easily without damage and also easy to drive.

Quite good performance by the Maxi Truck Plus.

Mahindra Bolero Maxi Truck Plus is highly useful for the reefer applications. I have built a reefer container on my 2019 Maxi Truck Plus to carry pharma products and occasionally dairy products too. The container is well fit on the pikup that allows it to carry high volume shipments in the freezing temperature. The 15" tyre and 3150 mm of wheelbase allow faster delivery on all types of terrains. I deliver the pharma products in Mumbai city and suburbs. The 65hp engine provides higher power and the mileage is also best despite the demand of the container for maintaining the temperature. Quite good performance by the Maxi Truck Plus.

recommend it for its mileage, power.

I've been using the Bolero Maxi TruckPlus for over two years now to ship FMCG products from Pune city to the suburbs. The pickup so far has performed without any failure, and carries over 1200 kg of payload every single trip. I cover over 100 km daily and the fuel economy has been ok. The high 195 Nm of torque helps me speed the deliveries, pass through the traffic at ease. I find the Maxi Truck Plus easy to handle, the only thing is that the cabin isn't AC so it means a little tough during sunny days, another thing is the fuel tank of this pickup should be slightly bigger. But for business needs I'm happy with the choice of this pikup and recommend it for its mileage, power and ease of driving.

Satisfy about after sales service

What ever I pay to got it But satisfy about after sales service and mileage

I want to buy

So progressive and possible. Response I want to buy because this is my favourite vehicle over all good product in this segment

Buy this vehicle to city load/transport/logistics

I use Maxi Truck pikup in Chennai. Strong truck but mileage is little low, but maintenance cost is super.

better than Dost

Maxi Truck Plus a high mileage pikcup for all types market loads. Big power and cargo body. Number one Mahindra truck better than Dost. You can buy.

Maxitruck is awesome pickup

liked the built quality and also the service offered by Mahindra. The cabin interior of this pikup is good, you get a car like experience inside with a lot of driver friendly features. Overall strong pikup that can take on all cargo needs. I would highly recommend this vehicle for logistics/transport business friends.

Best Pickup with BS6

Bolero Maxi Truck is the best pickup with BS6 compliant. It's performance, mileage everything is too good. I didn't find any issue till now. Easy to drive, no frequent services are required. I'm very much satisfied with its performance. It gives comfortable driving, didn't find any difficulties in off-roading as well. It's powerful as well.

Bolero Maxitruck Plus- Best pickup

It's a nice commercial vehicle for the loading purpose. 4 cylinder engine gives good mileage and speed to this maxitruck. Payload capacity is great for a pickup and leaf spring suspension helps in carrying heavy material. Does not comes with so many features but good as a pickup. Using since last 2 years but have not to face any serious issue.

Bolero Maxitruck Plus- Best pickup

Best pick up with the powerful 2523 cc engine. Comfortable in driving as it has features like driver information display, power steering, parking brakes. Also give enough good mileage for a pickup. A complete small commercial vehicle in low budget.

Stylish Pickup – Bolero Maxi Plus

Fun to Drive because of it's short turning radius, power steering which smoothly rides on road and offroad as well also has attractive headlights, front grille and fog lamps. Payload capacity of 1150 kg which is great for regular pickups in city for daily purpose.

Optimal city truck with a powerful engine

A year ago, I bought the Bolero Maxi TruckPlus for my newly found venture. This decision of mine has been the best so far as this truck has really been a very nice option for me. It performs quite good and the mileage it provides is also decent. Also, the handling of the vehicle is excellent in almost every form of terrain I used it in. The low maintenance cost has been a cost-effective measure for my business and has made me a decent profit. Overall, if one is tight on budget and is looking for a small commercial vehicle, he should go for the Bolero Maxi TruckPlus.

I don't recommend buying this truck

I have purchased before one month now front tyre have to change and it's milege is coming 11km /ltrs

I highly recommend buying this truck

Mera truck sabhi truck sey accha h aur iska jo aaram dayak cabin h wo mujhe kabhi thakne nhi deta

I highly recommend buying this truck

People are soo confused between pickup and maxi truck plus but I recommend pick up for heavy load and maxi trick plus for regular use. Mileage of maxi trick is better compare to pick up. In a place like ladakh, this kind of vehicles is much needed and very helpful.
Compare Bolero Maxitruck Plus with Competitors