Mahindra JAYO User Reviews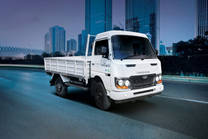 12 Reviews
₹ 9.96 - ₹ 9.98 Lakh*
*Ex-showroom Price in New Delhi
JAYO User Reviews
Capable truck with good mileage

JAYO light truck mileage dropped after one and half year, but the performance is good, taking heavy cargo load without any failure, pickup is high to go through traffic and highway also.

BEST Mahindra LCV cabin good and driving smooth

The Mahindra Jayo is known for its terrific power and its smooth drive quality. It is an excellent option in the sub 5 ton category as compared to the other alternatives present. It offers a smooth ride quality and terrific handling. The cabin is also more comfortable as compared to its rivals. It comprises a big cargo that is capable of carrying different types of logistics. The mDi engine equipped in this fascinating truck aims to provide the best performance at the best mileage. The design of this truck is also pretty impressive. All these factors combine to make it a successful investment. I have been using it for my business from many years now and I must admit that I have not faced any single issue yet.

JAYO is a best option in its category.

JAYO for me is ok truck, using this Mahindra LCV for 2 years, I purchased this truck in 2019, first consider buying the Tata 407 but JAYO offers me good amoung to payload and bigger cargo deck. Since then the performance is fine given my use for semi-urban and rural transprot. In the price point,.

I recommend this truck

The Mahindra JAYO is an excellent truck in the sub-5-ton category. I think JAYO score well against its rivals in teh category with Mahindra's compact cabin, smoother suspension and easy to driver truck. The JAYO get big cargo load body to carry all types of logistics-be it e-commerce, FMCF or white goods, the higher space in the deck means more volume. Mahindra's proven mDi engine deliver high power and torque with best mileage. What also stand out is the the 4-way adjustable seat for the driver's comfort, the blower throw good amount of air, the premium duel tone seat fabric and the tilt and telescopic power-steering makes the driver a delight. I recommend this truck to any one for its price, features and efficiency.

Good LCV truck

I use this truck it is better than tata,Eicher and leyland..I recommend you to buy this truck get MORE PROFIT.

good truck

Mahindra Jayo is good truck when it comes to Tata or Leyland competition. I think Mahindra need more variants options in this category.

Jayo is good truck

Not much variant choice from Mahindra in the LCV category. Jayo is good truck but I wnat some customisation for my business, also the design is basic. But Bolero pikup from Mahindra is good.

Good LCV truck

Good LCV truck in the market. Buy for city use.

Cabin is fine

I used Jayo for color box transporation in Pune city and Industrial area. Happy with the performance. Cabin is fine and low maintenance.

mileage is ok

Mahindra Jayo LCV is all-rounder truck for all cargo needs. This diesel engine from Mahindra makes good power and torque combination. The mileage is ok of this truck.

I highly recommend buying this truck

nice

I highly recommend buying this truck

Our product DI3200 jayo gives good performance and good mileage, having 2.5 ton load capacity. This is available in CBC, DAD, HAD body types.
Compare of JAYO Competitors