Deltic Deltic Vista User Reviews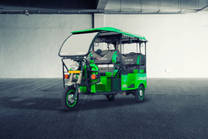 4 Reviews
Price Coming Soon
Deltic Vista User Reviews
Not good for 3-4 people.

This auto looks very flimsy. Not good for 3-4 people. Battery is haeavy also, range???

not a good vehicle

not a good vehicle, no match to what Mahindra or piaggio offer in the electric rickshaw segment. Don't get into these unknown brands, go for quality vehicles. EV vehicles are just coming and local companie don't have knowledge of the segment. But EV are good for low running cost and not pollutions but go only branded like Ape or Treo, may be Atul electric rickshaw also good.

okay okay

Vista rickshaw is ok ok for city/feed route. Price is lower and easy charging.

Not happy with Vista e-three-wheeler auto.

The battery not charging fast, down in half the day. Also the range coming lower than promise. Not recommend this auto to anyone. Better buy Mahindra electric rickshaw.
Compare of Deltic Vista Competitors