टाटा 1212 एलपीटी के यूज़र रिव्यू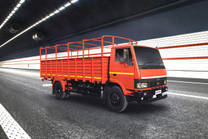 14 रिव्यू
₹20.10 - ₹21.71 लाख*
*एक्स-शोरूम कीमत नई दिल्ली
1212 एलपीटी यूजर रिव्यू
Valuable and most fuel efficient truck

This tata truck comes with a powerful and latest BS-6 engine that makes this truck smore stronger in this segment . This engines comes with a great fuel efficiency and capacity of 160L with large fuel tank and a power of 3300cc , 4 cylinder engine . This truck has such a nice design that makes it easy to drive on hilly and rough land. This Tata 1212 LPT comes with a strong chassis and body structure that makes is more stronger for taking heavier loads easily . This truck give a amazing mileage of 6 to 7 Km approximately .

Duniya ka Bharosa, Bharat ki Shaan!

Tata 1212 LPT ek kamal ki truck hai jo Bharatiya roads pe chalti hai. iska engine powerful hai, mileage badhiya hai, aur load-carrying capacity bhi kaabil-e-tareef hai. Steering control aur cabin comfort bhi acha hai, lambi safar bhi aasan hojata hai. Yeh truck durability aur reliability mein no.1 hai. Maintenance cost kam hai, jisse chalane mein asani hoti hai. Tata ka brand value bharosa deta hai ki yeh truck apne kaam par khara utre ga. Overall, Tata 1212 LPT Bharat ki shaan hai, transport ke liye perfect choice hai.

Badhiya technology se lais

Tata 1212 LPT truck ke paksh mein jo kaam karata hai vo hai BS 6 technology hai aur uchch payload capacities ke saath behatar mileage hai. yah sab kuchh behatareen segment-sarvashreshth suvidhaon ke saath mishrit hota hai jo truck ko ek number bnata hai kisi bhi business ke liye, aur jab bhee aap cargo load kie gae truck baajaar mein tata motors brand ke visheshataon ko dekhate hain to aapako higher resale value ka aashvaasan bhi diya jaata hai.

my Darevar

My all india ka Darevar hu my Gurgaon haryana ka lpt 1212 chalata hu my kud lpt gadi Lena chahta hu

Kaafi acchi build quality

Tata 1212 LPT ek bohot hi popular 6 wheeler truck hai. Kareeb do saal se aisi teen trucks operate karne ke baad main yeh keh sakta hoon ki Tata 1212 LPT ki performance, capacity aur overall economy ke hisab se yeh truck ek value for money package hai. Uske saath hai iski zabardast build quality aur ek bari cargo loading space jisse ap koi tension ke bina kaafi zyada load long distance load carry kar sakte hai.

Suitable truck by tata

Very good truck by Tata, we are using 3 of these truck for our fleet. Reliable, powerful and profit truck for all types of cargo deliveries

Tata best truck

Tata 1212 LPT is the most trusted truck in the ICV category in the market right now. You can take all types of cargo without any worry. This truck will never fail your expectations, with a good engine and best performance, Tata 1212 LPT is very reasonable price with the value you get. Now BS6 with even more features and refined engine. Go for this truck.

Ek verstaile option

Trucks toh apko 6-wheeler segment mein bohot milegi lekin 12-tonnes capacity ke saath ek capable, efficient aur powerful truck chahiye toh Tata 1212 LPT se behtaar koi option nahi hai. Iss truck ki performance, fue efficiency aur load capacity apko iss segment mein aur iss price mein koi aur truck nahi degi aur isko ap kuch bhi cargo transportation purpose ke liye use kar payenge.

Best Tata truck in the category

Tata ka ICV shrenee mein sabse achchha truck, Mailej, performance aur aaraamadaayak cabin bhee. Keval ek cheej yah hai ki yah truck ab BS6 injan aur any suvidhaon ke saath mahanga ho gaya hai. Lekin, 1212 teh vyavasaay mein sarvashreshth hai, isamen koee sandeh nahin hai. 1212 LPT ke saath is shrenee mein taata se koee pratispardha nahin hai.

Tata 1212 LPT

Tata ka prasiddh LCV truck 1212 LPT. Bs6 kee keemat adhik hai lekin trak sabhee prakaar kee dileevaree ke lie achchha hai. Cabin chassis verient achchha vikalp hai, phul bodee mahanga hai. Best truck int eh category.

Utilitarian and capable

I have been personally driving the Tata 1212 LPt which became a part of my fleet last year. I am very happy with the truck and can undoubtedly say that the truck is really capable and perfectly designed for long distance load haulage. The 12-tonne segment in India does not have a better option both in terms of capacity, power, price and overall performance and efficiency. The truck is very capable and makes load carriage seamless. Good fuel tank capacity and mileage makes for uninterrupted long journeys as well.

Top cargo truck by Tata

12-tonne GVW cargo truck so good from Eicher, BharatBenz and Leyland. Even Mahindra Furio is also better. So this segment lot of competition, i check all the trucks with test drive but so far Tata is better for business and budget. Purchased this truck 2021, and very happy with the use on long route. No problem in anything, bs6 truck better in power, no mileage drop. Overall tata added more features with some price increase but i exchange me old truck with good deal by tata dealer. Overall good truck 1212.

Good truck for high payload, mileage ok

மைனே அபி குச் டினோ பெஹ்லே டாடா 1212 LPT கி டெஸ்ட் டிரைவ் லி. மேரே கயல் மே யே ஏக் லௌடி ஐசி டிரக் ஹை ஜிஸ்கி பெர்ஃபார்மென்ஸ் பி அச்சா ஹோ சாத் சாத் போஹோட் சாரே லோட்ஸ் பி பினா பரேஷானி கே டிரான்ஸ்போர்ட் ஹோ ஜெயே. இஸ்கி ஜிவிடபிள்யூ ஹெய்ன் 11900 கி.கி.

Damdar engine aur zyada load karne ki capacity

Maine abhi kuch dino pehle Tata 1212 LPT ki test drive li. Mere khayal me ye ek lauti aisi truck hai jiski performace bhi accha ho sath sath bohot sare loads bhi bina pareshani k transport ho jaye. Iski GVW hein 11900 kg. Lambi safar pe yeh kam fuel brak k sath bhi chal sakta hein kunki iski fuel tank hein 160 litre ki. Yeh ek bohot hi badhiya truck hein.
1212 एलपीटी को इसके जैसे दूसरे ट्रक से कंपेयर करें