टाटा योद्धा पिकअप के यूज़र रिव्यू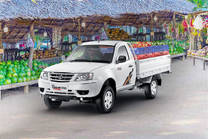 118 रिव्यू
₹8.54 - ₹10.71 लाख*
*एक्स-शोरूम कीमत नई दिल्ली
योद्धा पिकअप यूजर रिव्यू
Tata Yodha Sets New Standards

As soon as you walk inside the Tata Yodha, you can smell the martial dynamism. This agent is a shirker. Because it was erected for demanding work, you can feel its vitality as you punch. Although energetic, the interior is wise enough for long peregrinations. The Yodha performs well and excels at delicate running. Its simple philosophy is described by toughened design rudiments. It's not the most swish agent, but it's a reliable loafer who can manage everything you throw at it. This strong, charming, heavy-duty commutation epitomizes a well- rounded auto.

Strong, rugged truck, with off road capabilities

This tata yodha pickup comes with a powerful engine of 2200cc 2.2L Diesel engine that gives a toque of 320 Nm which give this vehicle lots of power. This vehicle gives an average milage of 15 Km per litre. Adjustable seats for drivers are also provided, it come with the electronic power stering, it has excellent load bearing capcity due to the nicely design of the chasis structure. some cons are fuel efficiency can be increased and lack of automation transmission and poor quality of suspension are used.

Dil Bade, Dard Na Khade!

Bhaiyo aur unki yaaron, aaj mai lekar aaya hoon Tata Yodha Pickup ki choti si review. Yeh gaadi asli Yodha hai! Design toh solid hai, aur performance bhi kamaal ki hai. Iski gaadi mein baithke, dil khush ho jaata hai.Yodha ka engine powerful hai, jaise Sher ka dawab. Off-road pe jaane mein bhi mazaa aata hai, jaise pahaadon pe chadhna. Load capacity bhi badiya hai, bohot saaman ikkatha kar sakte ho.Lekin thoda sa mileage kam hai, par yeh toh Yodha hai, mileage sochna chhodo! Aur haan, interior thoda simple hai.Saaransh mein, Tata Yodha Pickup ek dam jhakas gaadi hai, jiska damdaar performance aur bharosemand brand value hai. Yeh lene mein koi dikkat nahi hai!

Tata Yodha Pickup is built with cutting-edge

we wanted a small truck for our flower business and we thought of Tata Yodha Pickup as my brother suggested. Tata Yodha Pickup is built with cutting-edge technologies and superb engineering. It includes a fuel-efficient engine to increase revenue. The Tata Yodha's outstanding characteristics combine tremendous output with low mileage. It has a tonnage capacity of 3.5 GVW. This pickup is suitable for a broader range of logistical applications.

Tata Yodha pickup offers great power

hum bohot time se ek acha truck lene ka soch rahe the fir mere bete ne muje tata ace ke bare me btaya ,The Tata Yodha Pickup is created with cutting-edge technologies and superb engineering, it has a fuel-efficient engine. The Tata Yodha's incredible characteristics offer great power and mileage. It is located in the 3.5 GVW tonnage range. This pickup is appropriate for more varied logistics uses.

Yodha Pickup ka best power and performance

Tata Yodha Pickup ki power and performance dono kaafi achha hai. Ismein Tata Motors ke pratinidhitv mein viksit 3.0L turbocharged common rail diesel engine hai, jo 170 hp aur 360 Nm of torque ki takat deta hai. Yeh bhi bataaya gaya hai ki iska mileage sahi hai. Yeh pikup ek pachhda (rear-wheel drive) hota hai aur 5-speed manual transmission ke saath aata hai.

Tata Yodha Pickup today's need

For carrying heavily laden freight to customer doorsteps more quickly and effectively, Indian transporters, logistics firms, and fleet operators are big fans of the 2-3.5-tonne GVW pickup trucks. There is no better vehicle for the task than a pickup truck since it has the advantages of a bigger payload, rapid loading and unloading, and strong power and torque to navigate city traffic, small lanes, and crowded regions

bahatreen truck Yodha Pickup

Tata Yodha Pickup aaj ke zamane ka truck hai jisme sare features naye hai. Yeh truck dikhne me bohat simple hai par kafi prabhavi bhi hai. Iska breaking system is segment ke trucks ke muqable badhiya hai. Ese maine 3 trucks ek bar me kharide the tranportation ke liye.

Bharosemand partner

Ek bht hi bharosemand open truck dikhai deta hai. Isme kafi tonne tak ka saman bhot asani se lana aur lejaya ja sakta hai. Iske daam bhi naa zyada cotly naa zyada saste hai. Color option kum hai par reliable hai.

strong and profitable

Mazboot aur kifyaati toh ek hi nam Tata Yodha Pick-up truck. Me manufactuere se saman leke shops tak pohachane ka kam hai jisme me wafers, chips and cold drinks hota hai. Me ek baar me kafi saman kafi shops tak pohacha deta hoon. Kafi fuel efficient and strong features ke wajhse Tata Yodha pick-up mera favorite truck hai.

Achchi design aur durable

Pikup ki nayi tata yoddha BS6 range kam kharch, jyaada kamaee ke vaade par banaee gayi hai. iss catagory mein sabase shaktishaalee aur fuel-efficient engine hai , aur sabase bada cargo loading kshetr, taata yoddha bharateey sadakon par sabase majaboot aur sabase stylish pikup mein se ek hai.

Tata Yodha sabse kabil truck

Tata Yodha sabse kabil truck sabit ho raha hai. Aur iska simple reason iska engine hai jo ki torque 250Nm aur flat curve pe 1000-2500 r/min pe chale toh bhale hi kitna bhi bhari saman ho aaram se kacha rasta bhi par kar leta hai. Iska chassis bhi kafi mota hone ke karan aaram se kharab rasto pe truck ko spoort kar deta hai.

Uchch shakti vaala stylish pick-up

Is segament mein uchch shakti vaala stylish aur aakarshak hai yodha pickup , jo ise aakhiree distance tak sath deta .Proven engine aur strong aggregates jese suspensions, gearbox, axles, big cabin, large cargo box aur bigger tyre Yodha ko distinct identity deta hai as pickup.

Good Mileage Pickup

Naya Tata yodha 2.0 pickup ISME taaza style hai- Isme badhiya payload aur bahut kuchh hai. yodha ab na keval catogary mein sabase shaktishaalee pickup hai, balki sabase achchhee suvidhaen, ek aasaan driving anubhav bhee praapt karata hai, aur aapako har safar mein adhik paisa banaane ke lie zyada kaargo le jaane mein madad karata hai

Stylish bhi useful bhi

Isme bohat sare features hai jaise ki strong engine, accha road performance aur spacious load lane le jane keliye. Iska braking baki vehicle se better aur strong hai. Isme 2 se 3 log aaram se baith sakte hai. Tata Yodha ke daam bhi kiyati hai.

Yodha ek mazboot pick-up

Tata Yodha ek saman ek jagha se dusre jagha pohachne wala shaktishali truck hai. Isme kitne bhi cpacity ka samna load kiya jaa sakt ahai aur yeh kam Tata Yodha bht aasani se pura kar skat hai. Isme me 1700kg tak ka saman bht hi asani se load kar sakta hu.

Powerful performance ka malik

Tata Yodha Pickup ek acha engine aur powerful performance deta hai ye pickup truck, iss ka cabin kafi comfortable ai 2 logo ke liye ye muje zyada mengha bhi nahi padha aur mere fishing business ke liye perfect hai , mileage bhi 15- 16 kmpl ka de deta hai.

Good Pickup by Tata

I've just visited a Tata Dealership in Coimbatore to check out the new Yodha. I think Tata Motors has done a great job with new features and a number of changes in the pickup. Looking stylish and rugged like always. Yodha is now very good with refined engines and more options to buy.

Low maintenance and more safety

Good loading experience and low maintenance comfort to drive , good service enternal long lasting party not expensive

Capable and efficient

The Tata Yodha has been a part of my fleet for some time and in my experience it is a really capable and reliable vehicle with excellent load capacity and performance. The load body is quite big and the build quality is really good. The cabin is spacious and comfortable as well and offers a smooth and convenient journey carrying load over commendable distances

Pickup ka badshah

Commercial pickup segment mein abhi Indian market mein Tata Yodha Pickup jaisi package aur kuch nahi hai. Tata Yodha Pickup ek powerful, spacious aur comfortable pickup truck hai. Cargo transport aur delivery businesses ke liye yeh ek perfect option hai aur sabse acchi baat hai iski bohot hi affordable price aur bohot hi low operating cost.

Strong aur Powerful

Commercial pickup trucks ki segment main Tata Yodha Pickup jaisi hit gaari aur koi nahi hai. Aur yeh iski popularity ke layak hai. Kareeb 6 mahina chalake keh sakta hoon ki iss pickup ki strength aur capacity sach mein lajawab hai. Tin alag payload capacity variants main available hai yeh truck aur apki requirement ke hisab se ap khareed saktey hai.

Powerful and capable pickup

Useful for tough cargo delivery in city and outside. I'm very happy with my new BS6 Yodha pickup truck, using for more than year and half. Tough, rugged and powerful. Only thing is it won't give you high mileage but you can take quick deliveries with good overall performance. Also good for refeer container buecause of the powerful engine. Lastly, I liked the cabin with lots of space and good features.

Ek takatvaar pickup truck

Maine kaafi saarey pickup trucks chalaye hai lekinTata Yodha Pickup jaisi pulling power or payload capacity iss size ki koi aur truckmein nahi dekhi. Uskey saath saath driver's perspective se bhi yeh truck bohot hi acchi hai. Modern aur advanced features hai aur uskey saath saath comfort bhi kaafi hai aur smooth driving experience bhi deti hai yeh truck.

Tata Yodha Power and Strong Pickup

Tata Yodha is undoubtedly one of the best pickup available in the market. Very powerful and strong built quality make this pickup suitable for bigger and heavy payload. Also the cabin is very well designed with ample space and features inside. Overall Good choice if you want 2-tonne payload vehicle for your fleet.

Yodha overall good pickup truck for 1-2tonne load

Tata Yodha is not like Bolero pickup but giving me good performance with mileage for vegetable and fruits delivery. I liked the powerful engine which speed the delivery but not drop in the mileage. Also Tata improved the cabin with features and comfortable space. Price is okay if you go for the middle range variants. Overall, happy customers of this this pickup

1234567789

Khan anees farkin I, am booked this car because this is my favourite car I buying this car please give me car

Unparalleled capacity and performance

The Tata Yodha Pickup is undoubtedly the best option in the commercial pickup segment. I can say that after owning and driving the vehicle for almost a year, and two other pickups in the same segment. I can say it is really a well-designed and conceptualized vehicle that is optimized for the needs of the Indian market. The pickup has an unparalleled capacity when it comes to load carrying and does the job pretty seamlessly over short and medium distances. The cargo deck is quite big and you also get the option of dual cabins for lifestyle use.

Bada aur Majaboot Tata pickup

Taata Motars ka yah naya pikap truk bada aur bahut hee raph end taph bilt kvaalitee ka hai. Mainne 3 saal pahale khareeda tha. mujhe Cebin aaraam, bada injaan aur high palod pasand hai. Vajan ke saath koee bhee maal dhoen, Yoddha pickup truck aasaanee se hai. Is pikap ka mailej draiving par nirbhar karata hai. Mujhe apane shahar aur kasbe ke vitaran maargon par kaaphee achchha mailej mil raha hai. Maintenancebada nahin hai aur 3 saal se chalane mein koee samasya nahin hai. Aapake vyavasaay ke lie bahut vishvasaneey pickup.

Yodha is Good pickup

Mera yoddha pikap do saal puraana hai, yah gaadee vaakee achchhee hai. Doodh tainkar transport key liye shahar aur baahar ke lie is shaktishaalee pikap ka upayog karate hain. Haeeve mailej uchch shakti aur aaraamadaayak kebin ke saath achchha hai. Mujhe 12 kimee ka ausat mailej mil raha hai. Gadi me mein koee dikkat nahin hai. Saath hee tvarit dileevaree aur saste speyar paarts ke saath Tata kee service sarvashreshth hai.

Yodha pickup is powerful but lack mileage

The new Tata Yodha BS6 is good vehicle for high payload and cabin comfort also now better. But only problem is the mileage of this pickup, lower than Bolero that means running cost is high. But if you want to use for special applciatons with more power requirement then Yodha is good than Bolero pickup.

Good Pickup by Tata

I purchased the BS6 Yodha after new launched in 2020. Before that I researched Bolero pikup which was my first choice. However, after detailed analysis decided to go with Yodha. Main reason for me was powerful engine, bigger and comfortable for my cold storage business in Maharashtra. In last two years, Yodha has been really good, in mileage, reliability, payload and maintenance cost. Bolero is King in the Pikup but Yodha is also now less. So you your homework before you want to buy a pickup.

GOOD COULD B BETTER

GUD TRUK DRIVING IS COMPFORT , ROAD STSBILITY IS GUD PARTS SHOULD BE AVAILABE IN EVERY SERVICE CENTRE

Tata ki shaandar package, powerful pikup

Tata ka trucks ka range kaafi baari hai. LCV segment mein bhi Tata kaafi saari options deti hai aur un sab mein se Tata Yodha sab se behtaar hai. Main ek saal se yeh truck chala raha hoon personally aur har angle se yeh truck kaafi acchi hai. Driving experience bohot hi accha hai aur handling bhi aur load ke saath bhi engine acchi power deliver karti hai. Speed acceleration aur mileage sab kuch hi accha hai truck ki. Agar kisiko iss segment mein ek small light truck lena hai, toh yeh ek accha option hai.

Ek dependable pickup truck

Meri chota sa grocery business k liye mujhe ek chota sa pickup truck chahiye tha and meine research karna start kiye the. Kuch din k baad meine Tata Yodha k bare mein padha and iski bade mein thoda aur jankari leke kharid liye ye truck. Yeh 80 km ka top-speed deta hein, truck ka comparison mein jo bohot hi acchi hein.

Affordable pickup aur accha capacity

Agar ap India mein ek accha pickup truck dhoond rahe hai, toh main apko Tata Yodha recommend karunga. Mai khud isko kareeb do saal se chala raha hoon, aur yeh asani se kaha ja sakta hai ki yeh ek bohot hi accha truck hai jo apke paise ka barabar value return karta hai. Daam bohot hi kaam hai iska, aur uskey saath iska looks aur capacity, dono hi tareef layak hai. Weight carrying capacity toh unparalleled hai, aur uskey saath fuel efficiency bhi bohot accha hai. Cabin spacious hai, aur bohot comfortable bhi hai. Lambi journey aur heavy load carry karne ke liye ekdum perfect choice!

highly recommended pickup.

Yodha 100hp engine is the most powerful, best suitable for cold storage, fruit, vegetable transport. I'm using this pickup for milk product transport with big size reefer body, and performance is Best! The cabin is also big plus of this truck, so Tata Motors Yodha is highly recommended pickup.

a good pickup from Tata

I don't know why people don't like Yodha, a good pickup from Tata. very strong, engine power is high, the cabin is also good in compare to other pickup. I think after BS6 Yodha now is best pickup available in India.

strong for fruits and vegetables transportation

My Yodha is 4 years old now, and still going strong for fruits and vegetables transportation. Biggest cabin with comfortable space, the driving is good also. I'm happy with power and performance, the high cargo load capacity of this pickup without mileage drop. No breakdown in 3 years because service on time. So, buy Yodha for overall performance.

Ujjwal kundu

Super qality car hshsjjehegehhehegegeyehebegyeuebeheheushsheyeehheyshsbehsisiajabevegshsbsbehehwjjsnebwhh

Shiv kumar

No problem dear hai toh nahi ok thanks a c c d f c c d e f g h I j Kumar kg Bopp ok thanks for sharing this

Not happy with Yodha performance

Not happy with Yodha performance mainly the mileage. Power and pickup is fine but with lower mileage the running cost is high. May be Bolere is giving bette mileage…

I think Tata improved Yodha

I think Tata improved Yodha but biggest problem is the mileage. My friend using the new Yodha for 8 months, everything is fine but only mileage lower. So costly running as diesel price going up. So if you want strong and rugged vehicle go for Yodha but don't expect higher mileage.

Don't buy Yodha,

Don't buy Yodha, the engine is higher powered so the mileage is not coming high. Better go for Bolero, you get more mileage and low running price. Yodha is good only for high payload and not regular market load. But tata motors now made yodha better with new cabin and bigger cargo load. But I think because of high cost of running BOlero is better options.

Yodha is better options

I think the Bolero pikup is the most popular pickup in India, customer like them, with the strong performance, affordable price and relaiblity. ALso the resale value is high for any Boloro. But Tata Yodha is also now far better pickup that 3-4 years ago, the company has improved it in every area, so Yodha is better options of you want to pruchase a pikcup.

Yodha is best.

I purchased the 2020 BS6 Yodha last year, and using it for transport of e-commerce products. I'm happy with the performance of this pickup, what is working for me is the powerful engine, big cargo deck and comfortable cabin. The mileage is also good for city traffic and big volume cargo size, no issues of power lag or torque. Also, the look of the Yodha is far better, and lots of features inside. Before going for Yodha, I did detailed research and comparison with Bolero, my friends have Bolero I learned a lot from that vehicle. But I used Tata Ace and 407 before, so very much wanted Tata product. So recommend anyone who want a good pickup. Yodha is best.

Yodha is not very good compared to Bolero pikup

Yodha is not very good compared to Bolero pikup, the resale value is low if you want to sale after 4-5 years. The engine is powerful but then for light cargo delivery you don't get mileage. Bolero is better than Yodha anytime.

using the pickup for frozen products shipment.

I'm owner of Yodha BS6 for last one years, using the pickup for frozen products shipment. Before buying Yodha, I also check out Bolero City Pikup variant. I liked Yodha for its power and stronger built quality. The cabin is comfortable and has lot of feature, I think Tata new engine is not only powerful but also high milage even with AC container. Yodha is good pikup from Tata. Buy for your performance and profit.

Tata Yodha is versatile pickup

Tata Yodha provides Superior mileage, easy to drive, stronger and rugged cargo carrying capacities make them the most suitable for urban and rural applications. Tata claims that the new Yodha is ideal for rugged usage and is well-equipped to handle a variety of terrains.To target various customers, Yodha comes with three payload options 1200/1500/1700 kg. it is a versatile pickup capable of taking on all the daily rigorous cargo-carrying needs.

Powerful, durable and reliable pickup

Tata Yodha has a proven track record that helps you earn higher revenues with its best mileage and lower maintenance cost along with a powerful engine and comfortable cabin makes your business highly efficient. Yodha now comes with a superior, ergonomically designed cabin with high on comfort and safety. It has BS6 diesel engine that produces a power output of 100 hp and peak torque of 250 Nm. It is a powerful, durable and reliable pickup that promises more payload.
योद्धा पिकअप को इसके जैसे दूसरे ट्रक से कंपेयर करें