टाटा 709जी एलपीटी के यूज़र रिव्यू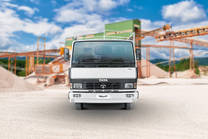 30 रिव्यू
₹14.26 - ₹15.73 लाख*
*एक्स-शोरूम कीमत नई दिल्ली
709जी एलपीटी यूजर रिव्यू
Value for money

Tata 709g LPT ek value for money truck hai aur wo bhi BS6 engine me. Yeh ek fuel efficent truck hai jo ki powerful aur trustworthy hai. Tata 709g LPT ko kafi imporvements ke sath laya gaya hai market me jaise ki driver package, acche tyres aur kafi accha GVW aur payload features ke sath.

powerful cng engine

Iska cng engine kafi powerful hai aur fuel ki bachat bhi hojati hai muje ye kafi sahi lagta hai iski load capacity bohot shandar hai mere business ke liye perfect hai ye truck . indian roads ke liye behtareen hai mileage bhi kafi acha deta hai

Affordable bhi, upyogi bhi

Tata 709g LPT kifayti aur mazboot janne wala yeh ek best truck sabit ho raha hai. 7-8 ton assani se laane lejane ke kam ko bekhoobi nibha raha hai. Iske daam bhi zyada nhi hai. Yeh truck maine aanaj ko ek city se dusre city lejane ke liye kharida hai.

Shaktishali aur bharosemand

suraksha tata motars ke Iss truck ka ek important part hai - Tata 709g LPT niraash nahin karata hai. yah sunishchit karta hai ki isme sabhee aadhunik suraksha suvidhaen praapt karata hai ki driver vaahan aur truck ke andar important cargo humesha surakshit rahe. cabin poore truck ka sabase mahatvapoorn hissa hai, aur isalie yah strong structure ke saath aata hai aur kisee bhee sambhaavit prabhaav ko jhelane ke lie sabhee prakaar ke steel mein tikaoo hai.

Ye kifayati truck hai

Tata Tata 709g LPT truck cargo delivery ke liye bohot badiya hai muje saman mumbai se gujarat le jana hota hai diesel bohot menga hai to ye truck cng option me milta hai jo bohot hi achi bat hai me bohot khush hu isse.

Ek value for money package

Agar affordable price mein apko ek capable aur efficient truck chahiye toh Tata 709g LPT ekdum sahi option hai abhi ke market mein. Iss truck ki power, performed aur efficiency tin o hi ekdum lajawab hai, uskey saath saath hai is truck ki low maintenance and operation cost aur sasti price. Sab milake ek value for money package hai yeh Tata kinpopular truck.

Capable and efficient

Highly recommended. 709g LPT is the number 1 truck in India with high mileage. . No problem with performance. Highly recommended

A reasonably priced and value for money package

I own the Tata 709g LPT and it works alongside 5 other trucks in the segment. In my opinion, this truck is an excellent package at a very affordable price. Good load capacity, reliable build quality along with a capable and efficient engine. The truck is smooth to drive and is perfect for hauling over considerable distances.

Shandaar capacity

Long distance load carry karne ke liye ek profitable CNG truck chahiye 7-8 tonnes ki segment mein, toh Tata 709g LPT se better koi option nahi hai. Kareeb 2 saal se operate kr raha hoon yeh truck aur abhi tak koi complain nahi hai. Jaisi iski engine performance aur efficiency hai utni hi shandar hai iski long distance load carry karne ki capacity.

CNG ki shandar option

Agar apko low pollution CNG truck khareedna hai toh 7-8 tonnes ki segment main Tata 709g LPT ek lajawab option hai. Yeh truck apko bohot saari body variants aur capacity mein milegi aur main yeh dawe ke saath keh sakta hoon ki apki paison ka sahi value degi yeh truck. Capcity, mileage aur performance tino aspect se hi yeh truck ki koi tulana nahi hai market main.

in CNG this truck is good option

This is a good truck in the CNG options but I think Eicher is giving a better package. Tata is always the frist choice but also check Eicher, because their trucks are also good performer in CNG.

CNG ki best option

Agar apko CNG truck khareedna hai 4.5-6 tonnes segment mein, toh Tata 709g LPT se better koi option nahi hai. Yeh truck ki load capacity aur performance unparalleled hai aur uske saath saath mileage aur driveability ki hisab se bhi yeh truck ki koi comparison nahi. Koi better option nahi hai is truck se iss segment mein.

Good CNG truck option in 8-9 tonne category

मैंने यह सीएनजी ट्रक दो महीने Tata डीलर से अपने पुराने 407 ट्रक के एक्सचेंज के साथ बहुत अच्छे सौदे के साथ खरीदा था। मैंने श्रेणी में कई ट्रक खोजे लेकिन अंत में इसकी समग्र विश्वसनीयता, mileage और performance के लिए 709g LPT खरीदा। साथ ही, Tata CNG truck सभी प्रकार के डिलीवरी व्यवसाय, कम रखरखाव और सेवा के लिए सबसे बड़े टचप्वाइंट के लिए बेहतर हैं। इसके अलावा पुनर्विक्रय मूल्य बेहतर है, एक्सचेंज के बाद मुझे डीलरों से एएमसी और बीमा के साथ बेहतर कीमत मिली। पिछले दो महीने से ट्रक अच्छा चल रहा है।

Powerful CNG truck

Aap Taata dvaara is CNG truck mein bhaaree maal/cargo le ja sakate hain, Cargo dek size bada hai for big loading. Mailej aur paavar bilkul deejal truk kee tarah. Vishvasaneey seeenajee injan ke saath 7-8 tan kaargo trak segament mein achchhe vikalp. Mera truck 3 maheene mein khareed ke baad suspension mein samasya huee lekin taata motars ne bina kisee keemat ke ise jaldee se seva dee. Reuglar service ek ke lie achchhee seva by tata deelar.

Very bed service for tata

Company in not answer for truck owner and very bed company's menage.............. ....................

Low cost of operations and great profitability

The Tata 709g LPT is a quite popular CNG truck. The truck is really capable and offers exceptional performance in the 7-8 tonnes segment. I own two other trucks in the segment and I can definitely say that the Tata 709g LPT is undoubtedly the most economical and profitable choice in the segment. The cost of maintenance is really low and so are the cost of operations, with CNG fuel and exceptional fuel efficiency. The emissions are also lower which impacts positively on the environment. A truck worth investing in!

Tata 7-8tonne CNG truck is good

This is good CNG truck by Tata Motors. Using for 2-3 years now. No problem in perfomrance. Good mileage, comfort and top class for city, town and inter city routes. Bs6 powerufl engine and big cargo deck.

The best choice in the 7-8T CNG segment

I have been driving the 709g LPT from Tata for quite some time now. I have driven quite a few trucks in the segment but none have impressed me as much as this one. It is an all-inclusive package that offers cost-effective cargo haulage along with a very convenient and enjoyable driving experience. The truck is smooth, powerful and has enough body space for ample volumes of cargo loading. Along with that, the engine is quite efficient as well. The driving experience above all is amazing and seamless.

Badhiya truck smmoth performance k sath

Ye 709g LPT ek aisi gaadi hai jo mujhe kaafi zyada kifayti lagi hai! Mai is truck ko kuch 6 mahine se istemaal kar raha hu aur ye zaroor bolna chahunga ki iski suspension majboot and comfortable hai. In sab chizo ka sar iski cabin k andar bhi padti hai jidhar zyada jhatka mehsoos nahi hoti. Upar se is truck ki 83hp dene wali engine kaafi smooth performance deti hein. Ye ek achi, tikau truck hai

Affordable aur shakti-shaali

Maine naya Tata 709g LPT bohot research ke baad khareeda aur ab tak yeh mera expectations ek dum perfectly pura kiya hai. Mileage se lekey cabin space aur chalane ke aram, mujhey lagta hai har tarah se yeh one of the best trucks hai is price mein. Sab se baadi baat hai ki is truck ka daam bohot hi affordable hai aur abhi loan aur EMI ka facility se bohot aasani se hi yeh aap khareed saktey hai. Uskey saath saath, yeh truck ka power bhi kaafi accha hai aur load capacity ka toh koi comparison hi nahi hai! Saach mein hi yeh ek bohot hi shaktishaali truck hai.

price good

Good options for diesel truck in the 8T GVW cargo load truck market. The mileage, cargo deck, cabin, engine, suspension is ok of this truck. Tata is giving price good. The emi is coming very lower with good finance options to buy this truck. Running cost is less less than diesel if you maintain then mileage can go up.

Not a good truck,

Not a good truck, cng engine is not powerful like diesel one. If you want only cng truck then buy or go for diese, you get more power and better performance.

little under power for some heavy applications,

The 709g LPT is little under power for some heavy applications, if you want light truck for simple cargo delivery then get the 709, but for heavy lifting go for the 11T CNG truck with more power and bigger cargo deck.

Tata Truck is the best in India

Best 7-8T GVW CNG truck in India. We're using 3 truck for market load operation in NCR. No issue with performance, speed, power or maintenance. Best Tata CNG truck for market like NCR with CNG availability. Tata Truck is the best in India. No match. Buy for any logistics/cargo delivery.

Don't buy CNG truck

Don't buy CNG truck. Power is not sufficient always. Good for pollution but diesel truck if nice for high pickup and overload cargo.

good cargo capacity

This CNG truck work in any terrain. The engine performance is fine with good cargo capacity and not power lag. Price is not costly. Tata after-sales support is well.

Buy for mileage, maintenance and pickup.

Super CNG truck from Tata Motors. Buy for mileage, maintenance and pickup.

improved truck with safety and comfort.

good option in 7-8T LCV category, Tata 709g LPT has got better feautres in the BS6 update. Tata Motors improved the truck with safety and comfort additions.

709g Tata is best CNG truck option.

if you want CNG truck between 13-15 lakh, then 709g Tata is best options. I'm using this truck since last two years for pharam/dairy transport in Goa. Good mileage and high load carrying capacity in the container body. Cabin is okay with feature and comfortable seats.

I highly recommend buying this truck

My truck is awesome.......alhamdulilla I use my truck for car recovery and flatbed towing car transportation in niligiris ooty never came across any problem Since 2012 and my personal experience in this business TATA ENGINEERING is the best for Indian roads and terrain places.......and I have 3 more trucks all are TATASE1210 for heavy recovery and 2 TATA407'S for underlift and accidental car hassle free trucks made in india made for India......
709जी एलपीटी को इसके जैसे दूसरे ट्रक से कंपेयर करें