पियाजियो आपे इ सिटी के यूज़र रिव्यू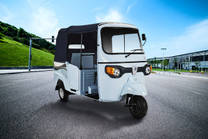 16 रिव्यू
₹1.95 - ₹2.84 लाख*
*एक्स-शोरूम कीमत नई दिल्ली
आपे इ सिटी यूजर रिव्यू
Affordable and profitable

The Piaggio Ape E City is a very good electric auto rickshaw which is perfect for auto rickshaw operators who want an affordable auto that also ensures higher profitability. It is spacious and comfortable and has a good battery range for continuous operation as well. Overall, the auto is a complete and economical package and coming at a very affordable price, it offers excellent value for money.

City trips ke liye perfect

Piaggio ka ek alag hi jagah hai Indian three wheeler market mein. Aur Piaggio ka E City khareed ke main yeh keh sakta hoon ke yeh brand sach mein tareef layak hai. Iss vehicle ki build quality, range aur performance, tino hi bohot accha hai aur iski price bhi kaafi affordable hai. City ke andar aap isse kaafi profitably trips maar sakte hain.

Ek shandaar electric auto

Fuel prices ki jo halat hai, aise mein electric auto rickshaw lena hi mujhey best option laga. Kareeb 1 saal Piaggio E City chalaney ke baad mein keh sakta hoon ki teh electric auto simply best hai. Sabse acchi baat hai iski range jo ki 110 kms bhi par kar deti hai aur uskey saath saath iski space aur comfort. Koi bhi hisab se yeh electric auto apko disappoint nahi karegi.

Ek kaafi acchi electric option

Piaggio ka Ape E City ek perfect electric auto rickshaw hai. Koi bhi agar India mein electirc auto khareedna chahtey hai toh mera recommendation hoga yeh auto rickshaw. Looks, space aur mileage, tino hosab se hi yeh auto best hai aur isse behtar package isse kaam daam mein apko nahi milegi, easy charing aur long range hai is auto me.

Ek bohoti accha autorickshaw

Agar aap auto rickshaw khareed ne ki plan kar rahe hai toh Piaggio Ape ka naam toh apne suna hi hoga. Piaggio Ape E City ek bohot hi accha auto rickshaw hai jo ki bohot hi popular bhi hai. Main khud isko khareedne ke ek saal baad bol sakta hoon ki isse behtar electric auto rickshaw apko Indian market mein aur nahi milega. Baki saari electric auto se dikhti bhi behtar hai, space hi zyada hai aur price bhi bohot hi affordable hai. Andar ka space, comfort aur seat quality bhi kaafi acchi hai aur overall battery ka backup bhi kaafi acchi hai, kareeb 100-110 kms chalti hai, ek full charge se.

Not very great e rickshaw

Not very happy with this Ape electric auto rickshaw. running cost is low but battery performance is not good, charging going down very fast. two times fixed the problem. Pro NO sound easy to drive comfortable seats for passenger low running cost Cons battery charging time high not longer range built quality is okay

Good CNG options autorickshaw

I think Piaggio electric auto rickshaw is good. Only charging time and range km is problem. But overall options for diesel/cng rickshaw.

Efficient aur affordable Piaggio Ape e-auto

Piaggio Ape toh auto rickshaw ka market mein puri India mein hi bohot popular hai. Electric option mein Piaggio Ape E City se accha package shayad hi aur kuch hai. Bohat hi acchi auto rickshaw hai yeh. Kuch mahino se main ise chala raha hun aur passenger ho ya load, yeh electric rickshaw ka capability ekdum perfect hai. 390 kgs ka payload capacity ke saath ye e-rickshaw chala ke apko kabhi aisa nahi lagega ki power ki kami hai. Kaafi acchi performance, comfort bhi bahut acchi aur uske saath hai ek bahut accha battery range. Sab se acchi baat hai ke ye auto rickshaw apko bohot hi kam daam mein mil jayega.

மிகவும் பரிந்துரைக்கப்பட்ட Ape E நகரம்

Nakara payaṇikaḷ pōkkuvarattu vaṇikattiṟku oru nalla vaḻi. Ṭīcal/ci'eṉji allatu Petrol, Diesel, CNG viṭa vilai atikam āṉāl iyaṅkum celavu kuṟaivu. Ape Ē City pirāṇṭkaḷ.

Not recommend E city to anyone

Not recommend E city to anyone. I used for six months but facing issues with performance. The battery charing taking time and goes off very fast, so i have to charge again. Visited the dealers, they also solved the problem but not fully. So overall not happy with the vehicle.

best option

Ape E-City is best option to petorl/CNG rickshaw. Only charigng and no fuel cost. Getting more profit.

Liked this full-electric battery auto-rickshaw.

Liked this full-electric battery operated piaggio Ape auto-rickshaw. 2-3 customer using in our areas, make no sound, driving is easy. I want to buy my next vehicle.

not a powerful electric auto-rickshaw

Ape E City is not a powerful electric auto-rickshaw, the battery needs bigger one and charging time quick. Piaggio should work more on this vehicle or a variant that come with 150 km range and less than 3 hour charging time. I know the price will be high but customer will get choice. E-City is start which may be good but Piaggio needs more better vehicle.

I recommend to my friend to buy it

Ape E City is a good three-wheeler available in the market. I'm using the vehicle for feeder route, and the average is good, the battery performance is very impressive. It can take 3 passenger easily with cabin quality is better. The battery charnging time is little high but you can use it half/full day with not petrol cost. OVerall not issue in 6 months, I recommend to my friend to buy it. No noise and petorl cost makes the electric auto a good option in city.

Treo is a better vehicle than E City.

Ape E city range is lower than Mahindra Treo. I think Treo is a better vehicle than E City.

Best Electric Rickshaw - Piaggio Ape E City

According to me its a best electric auto rickshaw that comes with 45 km/h top speed. Benefit of having this E rickshaw is that i don't need to worry about the fuel. Beautifully designed digital driver information display is there to support the driver. Handling is so easy and comfortable of this rickshaw. Its a best scooter at best price.
आपे इ सिटी को इसके जैसे दूसरे ट्रक से कंपेयर करें
इलेक्ट्रिक