मारुती सुजुकी सुपर कैर्री के यूज़र रिव्यू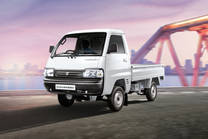 36 रिव्यू
से ₹4.14 लाख*
*एक्स-शोरूम कीमत नई दिल्ली
सुपर कैर्री यूजर रिव्यू
Super Carry is perfect of all types of bussiness

Maruti suzuki super carry is best suited Vehicle for all type of vehicle. Curentally, it comes in two variants CNG and Diesel, Which makes it eco-friendly ans well as cost efficient. This super carry gievs a payload of 725+ Kg in Petrol and 625 Kg in CNG. This has big size cargo body thhat can fit most of the items. It has 5 speed manaul transmission gear system and a spacious big cabin for driver comfort. It has a cng tank and emergency petrol tank in it.

Sabse Chota Commercial Vehicle

Super Carry, Maruti Suzuki ka naya commercial vehicle hai jo apni chhote si size ke saath badi takat rakhta hai. Ismein 793cc ka engine hai, jo mileage mein kaafi efficient hai. Iss gaddi ki design compact hai, jisse crowded areas mein bhi aasani se ghoom sakte hai. Load carrying capacity acchi hai, jiski wajah se small business owners ko yeh ek reliable option milta hai. Interior space kaafi comfortable hai aur features bhi user-friendly hai. Iske affordable price tag ne isse small business owners ke liye ek acchi choice banaya hai. Overall, Maruti Suzuki Super Carry hai ek pratibhavan aur kam kharchila commercial vehicle.

Paisa wasool package

Super carry ek kifayati aur achcha truck hai jo apko achcha mileage aur jyada payload deta hai. Mai pichle 1 saal se use kar raha hu abtak koi pareshani nahi aayi. mai is truck bahot khush hu

Good Truck

Super Carry Mini-Truck is a very good option, especially the CNG engine. High Mileage, low maintenance and easy driving. I liked the design and cabin of this truck.

very Good Vehicle

Really nice vehicle, I got more than 150 happy customer, pls call 9834402182 for more information. GOOD BUILD QUALITY, BEST IN CLASS ENGINE, DUAL FULE OPTION( ONLY IN SUPPER CARRY )

Powerful LCV Truck

Super Carry is most powerful truck in the 1-tonne cargo category, so good of heavy load delivery. but mileage is not very high so if you want truck for more payload then carry is good but for mileage not. but overall a good option in the entry-level segment. I used Super Carry for 1 years-used one- not a bad truck but then i switch to Dost Plus new.

Mileage is very poor .

Super carry mileage is very poor .transpoter person is very sad . Super carry market value is zero .i donate this super carry patrol in sawatch Bharat mission .shortly

Tuck ke performance se kul milaakar khush.

Mera supar carry 2 saal puraanee hai aur trak ke ol-araund paraphormens ke saath. Kisee bhee cheez mein koee compalint nahin hai. Maaruti dvaara bahut achchhee tarah se dizain kiya gaya truk. Keval ek cheej Mahindra Jeeto ya Taata Ace kee tarah samaan mailej nahin hai kyonki is ka injan bada hai. Lekin bhaaree payload jaise , paanee kee botal ya cylinder jaise shahar kee dileevaree ke lie pikap aur power sabase achchha hai. Mujhe lagata hai ki is truck ka kebin bahut kcmpaikt hai, jisamen paryaapt jagah nahin hai, Lekin pradarshan hee is shrenee mein supar kairee ko sheersh vikalp banaata hai.

High price truck but better option

Super Carry is only good option if you have bigger payload need. Because the engine is big and powerful so mileage is less.  Better choose Tata Ace or Mahindra Jeeto. Cheap and best entry truck with reliability and lower price. Also good resale price you get. 

Affordable truck from Maruti

Maruti Suzuki Super Carry ek bahut hi accha option hai Indian LCV segment main. Maine yeh truck bohot research ke baad khareeda aur abhi tak koi bhi complain nahi hai mera iss vehicle se. Build quality bohot hi accha hai aur apko heavy lod carry karne mein bhi koi mushkil nahi hogi. Uskey saath saath yeh vehicle bohot hi comfortable to drive hai and kaafi affordable price mein bhi aati hai. Heavy load lekey bhi truck kaafi acch performance deti hai aur aap ko short ya medium distance mein kaafi satisfying accha performance aur mileage milega.

Good work in

1111¹1111111111111111111111111111111111111111111111111111111111¹111111¹111111111111111 1111111111111111111111111111111111111111111111111111111111

Best i like it

It too good i really like this truck this truck is very help full form me and i say thanks to maruti suzuki to this amazing truck

Small business ka perfect partner

Mera delivery business pura depend karta hai mera Maruti Suzuki Super Carry ke upar. Kareeb so saal se Super Carry mein use kar raha hoon aur abhi tak, mera iske baare mein ek bhi complain nahi hai. Yeh mini carrier truck bohot hi accha hai aur medium weight carriage ke liye perfect option hai. Payload capacity bhi kaafi hai aur koi bhi light aur medium load yeh vehicle bohot hi aasani se dur tak le ja sakti hai. Engine bohot hi smooth hai aur service bui acchi deti hai, jiskey liye iska running costs bhi bahut affordable rehta hai, especially agar long distance hailing ka zarurat ho toh.

Not happy with Maruti.

Super Carry CNG engine power is not good, also mileage is down. Not happy with Maruti.

Good truck

Maruti Super Carry is Good truck for city trips. Mileage, payload and power, I liked everything.

Mileage is not coming from Carry

Mileage is not coming from Carry, also some trouble facing in suspensions of my 2-year-old Super Carry truck. Pick and power is high and the cargo deck is big to carry a higher payload.

All good ultimate experience

1200 cc engine Dual fuel CNG Petrol 4 cylinder Brake system Transmission all good Performance all good

Good milege

Nice maruti suzuki super carry good milege iam so happy😊😊😊😊😊😊😊😊😊😊😊😊😊😊😊😊😊😊😊😊😊😊😊😊😊

Don't buy super carry

Don't buy super carry, I'm having engine problme after one year purcahse. Some issues with inside part, the dealer helping but taking lot of time. Business down. Not expected this from Maruti. Aidtya

MY BEST FRIEND

Best one" good mileage, best pickup, comfortable cabin , drive feel like a luxury car,

good in the segment.

I've Tata Ace and Super Carry truck for my transport business. Ace is 5 years old and I purchased Super carry in 2 years ago. So experience of both the truck is similar you get big reliability, mileage, high payload and big cargo deck. Comparing both the truck, Ace and Carry have different plus and minus. But Super Carry is now coming in cng and petrol means a good in the segment. If you don't want tata or mahindra, then carry is one option. I can say it is your budget but both the trucks are good. I don't find any issue in any truck, if you take good service and maintenance both trucks give you good return. Ace and Carry are good options for truck buyer in India.

I hab super carry diesel model..........

Gadi achchi hai par milage bahut kam hai Merevpas super carry ko 2 year 6 month ho gaya hai. Hill area k liye ye gadi sahi nahi hai...

Super Carry

Good Super Carry my friends in the world with you now

Nice truck with good in cng

I bought this truck 1 month ago i am getting nice mileage and great pickup and cng is like cerry on cake prefect mini truck for small bussiness like mine

faster delivery in the city and outside too.

I purchased the BS6 petrol super carry in Nagpur for vegetable and fruits delivery. This is a truck helping me in faster delivery in the city and outside too. The cabin is ok, but suspension is quite smooth and top-speed is helpful in the return load.

Good power, pickup and cargo loading capacity.

Super Carry fighting well with Tata Ace and Mahindra Jeeto. Carry is a truck that performs in all terrain and suitable for every application for last-mile cargo delivery. I have many Super Carry delivering farm produce in small towns often carrying them from villages. Good power, pickup and cargo loading capacity.

needs to introduce the diesel Super Carry

Maruti needs to introduce the diesel Super Carry for some tough cargo applications. The petrol and CNG are good options but diesel is necessary in India. I wanted to buy the diesel so I purchased a BS6 Tata Ace diesel.

Go for it

Super Carry CNG I variant is among the top choice in less than one tonne cargo mini-truck. You can run this truck for lower cost but deliver equally high cargo faster with almost similar payload. Maruti has refined the engine with good pickup and power with a 1200 cc engine is fuel efficient. I'm using the 2020 Super Carry CNG in Madurai, and in the last 14 months have been happy with the overall performance of this truck. If you're thinking then buy this truck for its performance and lower cost with Maruti reliability.

best of the best

Super Carry is a perfect below 1T GVW truck to deliver doorstep logistics services in cities and towns. I'm using Super Carry for my transport business to carry furniture, appliances and electronics goods in Chennai city. I have the 2019 diesel model giving me good mileage. But in the BS6 new Super Carry the diesel engine is not available but the CNG is a better option. One of my friends is using it and the mileage and performance is high. Go for this truck for any transport requirements.

Low Mileage. Clutch difficult for driving.

Only 10 kmpl Mileage in city with petrol. Per 1 km driving cost ₹10.30 not profit this truck to small self employed. Clutch is very bad for 1st gear moment and reverse. Totally i 6 lakes with emi interest waste of money

Value for money

One of my friends suggested the Super Carry when I was about to start my own business. It is perfect to provide doorstep deliveries as the vehicle can easily enter any small roads. It has become my daily companion since then and now it is hard to imagine my life without Maruti Suzuki Super Carry. It has a 70-litre fuel tank too which is quite good for a small truck. Inside the cabin, there is enough space for two adults to sit on. I highly recommended this to any start-up that needs a small truck.

I highly recommend buying this truck

Carry ka mileage accha hai. City aur twon use ke liye suitable gadi hai. Cabin comfort kafi hai. Good vehicle by Maruti India. Supper carry is Super…

I highly recommend buying this truck

Super carry eak badiya gadi hai. Mai use kar raha hu 2 sal se. Maruti ne badiya vehicle banana hai. Avarege 18 ka milta hai. Mai Gurgaon me furniture transprota me Carrry ko use karto hu. Aachi gadi hai, quality is good.

I highly recommend buying this truck

Gadi aachi hai. Muze 19 ka mileage milta hai city me. Mai furniture carry karta hu Lucknow me. Maruti ne ye gadi badiya built kari hai. Cabin quality aur driving comfortable hai. AC be hai.

I highly recommend buying this truck

Super Carry acha pick up deta hai aur performance sahi hai. Iski lok priyata achi hai is segment mai.

I highly recommend buying this truck

This truck is best to transport goods from one place to another and its mieage is also awesome so i don't face any problem. Thia truck helps a lot to transfer small or big gooda from here to there. I highly recommend this truck to all those who want to transfer their goods from their place to another place. Just go for Maruti suzuki truck and transfer your goods safely. This truck's performance is better than any other truck.
सुपर कैर्री को इसके जैसे दूसरे ट्रक से कंपेयर करें

पॉपुलर मारुती सुजुकी ट्रक्स