महिंद्रा जायो के यूज़र रिव्यू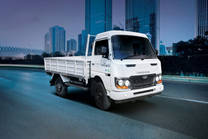 21 रिव्यू
₹9.96 - ₹9.98 लाख*
*एक्स-शोरूम कीमत नई दिल्ली
जायो यूजर रिव्यू
Affordable, fuel efficient and small truck

It comes in two Variants dieseal and CNG variants, other than that its power stering feature is also option as per coustumer requirements. It has total 180 of overall fuel capacity with 3-Cylinder of gas,as compare to engine and price it has excellent payload capacity of 2550 kg approx, in the HSD version and 3100 kg in CBC version. In Mahindra jayo company ftted AC are not come but provision for that is come we can install from out market. Decent cabin design with full space, adjustable seates for driver comfort.

Duniya Ki Nai Kahani

Mahindra Jayo ek bahut hi anokha aur dilchasp gaadi hai! Iski dikhne mein modernity aur durability dono hai. Jayo ki comfortable seats aur spacious interior ride ko ek maza dene wala experience bana deti hai. Engine ki power bhi kaafi impressive hai, jisse long drives pe bhi maza aata hai. Safety features aur technology par bhi Mahindra ne kaam kiya hai. Par, mileage thoda kam hai, aur kuch parts ki quality me sudhar ki jarurat hai. Overall, Mahindra Jayo ek solid option hai, lekin thodi si sudhar aur competitive pricing isko aur bhi behtar bana sakte hain.

Mahindra JAYO ek takatwar mini-truck

Mahindra JAYO ek takatwar mini-truck hai jo specially indian businessman aur farmers ko dhyan me rakhte huye banaya gaya hai. Iski performance, features and build quality kaafi behatar hai aur yeh ek versatile mini truck hai jo farming, vyapar aur dusre kaamo ke liye istemal kiya jata hai.

A priceworthy

Mahindra jayo is super and best truck. Easy to drive, big cargo load, good performance what else you want. I like this truck.

Good Light Truck in the market

I'm Mahindra JAYO customer and my experience with this light truck is positive. In 2 years faced now problem, every load cargo taking to long and short distance. No breakdown, very good mileage and a higher loading deck. Good truck in the light segment by Mahindra, you can buy JAYO anytime with good price and support by the Mahindra dealer.

Lambi loading area

Past kuch mahino ka experience se, main Mahindra JAYO se bohot hi khush hoon. 5-tonne segment mein yeh truck ek bohot hi capable aur efficient gaari hai aur jo sab se acchi baat hai woh hai iski deck area jo ki apko koi aur truck mein nahi milega. Itni baari space hai iski loading area mein aap bohot sara saaman load karkey kaafi asani se lambi swari kar saktey hai.

Mileage is good but feature not many

Using this LCV truck for fruits and vegetables transport, performance is okay with mileage is high and no running problem. overall good truck for my regular use. The cabin is fine but not many features, mahindra look at giving more features. Price is also reasonable on-road including insurance and AMC. You can buy this Mahindra JAYO for any type of logistics business.

You can buy this Mahindra LCV

Iha ika vadhī'ā Mahindra LCV vikalapa hai para isa ṭaraka nāla mērē ika dōsata dē anubhava tōṁ bā'ada, Tāṭā 407 ika vadhī'ā vikalapa hai. JAYO samaratha ṭaraka hai para 407 varagā nahīṁ, muṛa vikarī mula atē pradaraśana vakharā hai. Jē tusīṁ kharīdaṇā cāhudē hō, JAYO Mahidarā ijaṇa atē ṭaiṅkara varagī viśēśa aipalīkēśana nāla vadhī'ā hai, iha ṭaraka la'ī ḍhukavāṁ hai, para śrēṇī vica sabha tōṁ vadhī'ā vikalapa kīmata, pēlōḍa atē brāṇḍa, sabha kujha dē nāla 407 hai.

Capable truck with good mileage

JAYO light truck mileage dropped after one and half year, but the performance is good, taking heavy cargo load without any failure, pickup is high to go through traffic and highway also.

BEST Mahindra LCV cabin good and driving smooth

The Mahindra Jayo is known for its terrific power and its smooth drive quality. It is an excellent option in the sub 5 ton category as compared to the other alternatives present. It offers a smooth ride quality and terrific handling. The cabin is also more comfortable as compared to its rivals. It comprises a big cargo that is capable of carrying different types of logistics. The mDi engine equipped in this fascinating truck aims to provide the best performance at the best mileage. The design of this truck is also pretty impressive. All these factors combine to make it a successful investment. I have been using it for my business from many years now and I must admit that I have not faced any single issue yet.

JAYO is a best option in its category.

JAYO for me is ok truck, using this Mahindra LCV for 2 years, I purchased this truck in 2019, first consider buying the Tata 407 but JAYO offers me good amoung to payload and bigger cargo deck. Since then the performance is fine given my use for semi-urban and rural transprot. In the price point,.

I recommend this truck

The Mahindra JAYO is an excellent truck in the sub-5-ton category. I think JAYO score well against its rivals in teh category with Mahindra's compact cabin, smoother suspension and easy to driver truck. The JAYO get big cargo load body to carry all types of logistics-be it e-commerce, FMCF or white goods, the higher space in the deck means more volume. Mahindra's proven mDi engine deliver high power and torque with best mileage. What also stand out is the the 4-way adjustable seat for the driver's comfort, the blower throw good amount of air, the premium duel tone seat fabric and the tilt and telescopic power-steering makes the driver a delight. I recommend this truck to any one for its price, features and efficiency.

Good LCV truck

I use this truck it is better than tata,Eicher and leyland..I recommend you to buy this truck get MORE PROFIT.

Want new updation

There is no updates in the back cabin. Please change the cabin size.Single wheel must have an updation on the back cabin size

good truck

Mahindra Jayo is good truck when it comes to Tata or Leyland competition. I think Mahindra need more variants options in this category.

Jayo is good truck

Not much variant choice from Mahindra in the LCV category. Jayo is good truck but I wnat some customisation for my business, also the design is basic. But Bolero pikup from Mahindra is good.

Good LCV truck

Good LCV truck in the market. Buy for city use.

Cabin is fine

I used Jayo for color box transporation in Pune city and Industrial area. Happy with the performance. Cabin is fine and low maintenance.

mileage is ok

Mahindra Jayo LCV is all-rounder truck for all cargo needs. This diesel engine from Mahindra makes good power and torque combination. The mileage is ok of this truck.

I highly recommend buying this truck

nice

I highly recommend buying this truck

Our product DI3200 jayo gives good performance and good mileage, having 2.5 ton load capacity. This is available in CBC, DAD, HAD body types.
जायो को इसके जैसे दूसरे ट्रक से कंपेयर करें