महिंद्रा ब्लाज़ो एक्स 28 टिपर के यूज़र रिव्यू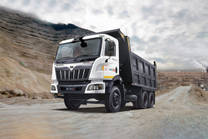 20 रिव्यू
से ₹41.24 लाख*
*एक्स-शोरूम कीमत नई दिल्ली
ब्लाज़ो एक्स 28 टिपर यूजर रिव्यू
Powerful Mahindra 10-tyre tipper

The Mahindra Blazo X 28 is an impressive tipper. It has been well-equipped with all the features that any potential tipper lover would want. It flaunts an extremely effective engine performance and a terrific drive train. The handling is also super smooth. The various safety features included in this powerful truck also elevate the performance of the truck. I have been driving this powerful machine for more than seven months now and I must admit that it has never failed to live up to my expectations. The build quality, the engine performance and the suspension system make it a perfect choice for all fervent truck enthusiasts.

This is good tipper

This is good tipper from Mahindra, the power is high for any construction work. Also the more torque help with faster transprot of material. We are using 3 Blazo X 28 tipper for road work. Happy with the perfomrance. Recommend it. Burgain for price from Mahindra also take the telematics solutions, it is helping for performance tracking of the truck like mileage, driving and locations….

I would recommend it to anyone

We were looking to expand our tipper fleet that has over 20 tippers in the HCV segment from all the top brands. To get a new one, we compared Tata, Leyland, Eicher and BharatBenz and also Mahindra Blazo X. All of them offered key features and performance elements but we decided to go ahead with Blazo X 28 tipper because of the higher mileage guaranteed or taking the tipper back by Mahindra. This makes the tipper top in the category as mileage is the key factor in tipper business. More mileage means more profit. The Blazo X 28 tipper has bigger engine that produce more power and torque this help in finishing the job faster, saves time and money. What also work in favour of this tipper is Mahindra's fully built options with Blazo cabin that means no time to waist in building the tipper body or cabin. We straight got the tipper in business and in 6 months the performance is satisfactory. I would recommend it to anyone looking for a fuel efficient and power tipper in 10-tyre category.

not tha bad

We've been using Blazo X 10-tyre tipper for our construction business which also has Tata, Leyland and Eicher tippers. We use all brands which are well established but Mahindra Blazo X is also not that bad, the company has done a lot of work before giving us this truck-like our applications, using pattern etc to tuned the truck for our needs. We're getting the mileage as promised by Mahindra, and in one year the maintenance, performance is at part with other brand not very different, so overall Blazo X has done a great job competing against top leader brands. So if you are thinking of giving a chance to this tipper, then go ahead, you won't regret.

This Blazo tipper is not match to Tata

This Blazo tipper is not match to Tata or Leyland in performance. We check it at one construction site, the mileage is fine but overall performance, engine, suspension need improvement by Mahindra. I think the cabin is ok just like Tata Signa tipper. Blazo trucks are not bad but still not match to Tata.

no match to Tata tipper

Mahindra Blazo X 28 is good tipper, but consider Tata or Ashok Leyland, because Blazo is fine in fuel mielage but overall performance of this tipper is lower than Tata or Leyland. We've been using all the brands, Blazo is emerging but no match to Tata tipper. The overall user experience and total cost of ownership, Tata is the best. Also the price of this tipper is at par with top brands. So go for market leader in this segment.

the tipper is good one

We've been using the Blazo X 28 tipper of five units for road construction, this tipper has been well performance. Other than some issues here and there, the tipper is good one. Importnatly for us, it delivers on the mileage promise, plus the Blazo cabin is comfortable for driver as the tipper works almost 24 hours non-stop. ALso, we get all the support from Mahindra in operations nad service, our experience with the dealer has been good. Positive about the Blazo tipper performance and ownership experience.

things i like

There are various things which i like about Mahindra Blazo X 28 Tipper. High power and torque for tough & challenging duties comes with the powerful engine. Modern factory-fitted cabin which gives comfortable riding experience to driver. Robust aggregates. Large & strong tipping body which is required to complete all the difficult tasks. Guaranteed fuel mileage. Standard telematics for efficient fleet management

wow factor

Mahindra Blazo X 28 Tipper comes with a wow factor which is the powerful engine and the built quality of the truck. I purchased it within the month of its release and i am using this till now and will be using in future as well. It is a very bold truck and it has all the features that are required in this kind of truck.

expensive

Mahindra Blazo X 28 Tipper is very expensive when compared from other trucks in the segment. There are other competitors which the same specifications but at cheaper price. BharatBenz 2823C and Ashok Leyland 2820 Tipper are worthy trucks i am planning to buy a truck from these options but i am very confused. All the features are almost same there is slight difference in built quality only.

only for good driver

Mahindra Blazo X 28 Tipper is a truck that no ordinary person can drive. Only an experienced or qualified driver can drive this truck and there are a lot of reasons for it like it is a very big truck and your concentration needs to be all around it so that no one can get hurt. Other than that this is an excellent truck in good hands.

best features

Mahindra Blazo X 28 Tipper has the best in the segment features. It comes with all the features that are required to make the transportation easy and fast. It is used for various applications like road construction, sand, construction material or coal, etc. and it performs very well in all the things which makes it the best truck in the segment and that is why i am using it.

powerful breaks

Mahindra Blazo X 28 Tipper has very powerful breaks that is very much required. The brakes are so powerful that it can even stop this truck with payload on steep hills. I like this very much about this truck. I am also impressed with the built quality of this truck very much as there is no rusting problem in this truck and it is very well maintained.

best cabin

Mahindra Blazo X 28 Tipper has the best cabin in the segment with all the necessary features that are required to operate it comfortably are present. The Cabin is equipped with modern features and an overall highly safe cabin to ensure the productivity of this tipper stays at elevated levels. This tipper is highly versatile which you can deploy in many applications like road construction, sand, construction material or coal.

very specific purpose

Mahindra Blazo X 28 Tipper is a truck that has very limited purpose but it is very good at fulfilling those purposes. I am using this truck for my construction business and i have also lend this truck to a friend of mine for his mining business and we both are satisfied with the truck he is now also planning to buy this truck.

good built quality

Mahindra Blazo X 28 Tipper has a very god built quality and it can be used for a long time and still there will not be any issue with the rusting problems or anything else. It comes with a compelling set of aggregates. The steering is hydraulic power assist tilt & telescopic type for the smoother driving experience. This makes it very easy to drive and steer even with heavy payload.

lots of features

Mahindra Blazo X 28 Tipper comes with a lot of features but to satisfy all the features there comes a price. If you are in construction or mining business you need this truck because it completes all the needs. It has a very powerful engine which gives it power to carry all the payload to long routes.

multipurpose

Mahindra Blazo X 28 Tipper is a multipurpose truck which can be used for various tasks from construction to trans portion of cargo. It has a very powerfull engine which was required to transfer the heavy payload. The powertrain consists of an mPOWER 7.2-liter FuelSmart, multi-mode switches BS6 engine producing 276hp of power at massive 1050 Nm of torque tuned to a 6-speed Eaton gearbox.

good mileage

Mahindra Blazo X 28 Tipper gives a very good mileage being this big truck. This truck is used to transport cargo, raw material, or any other goods for long distances. The rear view mirrors are perfectly placed and gives a very good view of the back side. As this is a big truck it is very necessary to have a view of the back also.

the best

Mahindra Blazo X 28 Tipper is the best truck in the segment. Its payload capacity is very good and it has very good payload capacity. It is the best truck for construction purposes. Whatever the need is how far the distance is no what the circumstances it never fails to deliver. I have 2 of these and both of them work very fine.
ब्लाज़ो एक्स 28 टिपर को इसके जैसे दूसरे ट्रक से कंपेयर करें