बजाज कॉम्पैक्ट आरई के यूज़र रिव्यू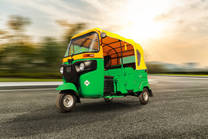 28 रिव्यू
₹2.34 - ₹2.36 लाख*
*एक्स-शोरूम कीमत नई दिल्ली
कॉम्पैक्ट आरई यूजर रिव्यू
never buy new cng model in bajaj

I bought the rickshaw 2months back now its in service center for three days due to starting issue. The vehicle starts and then stops if we don't throttle. Bajaj was ruling the rickshaw segment with 2 stroke engine but not in 4 stroke. Have to improve more. Service centre people don't know what the problem is. Go for TVS or PIAGGIO if you are buying cng version of auto rickshaw

Affordable and reliable

If it comes to buying an auto rickshaw, the Bajaj Compact RE is an excellent choice. I have been very satisfied with operating two of these photos and the auto rickshaw is a perfect choice for operators who want to make maximum profit with a low maintenance vehicle. The auto rickshaw is spacious and smooth to drive as well and having low cost operations, it is a sustainable and reliable package at an affordable price as well.

Popularity ki Layak autorickshaw

India ki har jagah Bajaj ki yeh LPG auto rickshaw popular hai. Aur isko khareed ke main keh sakta hoon ki auto rickshaw ke liye complete hai yeh. Mileage, aur performance mein toh sahi hai hi, uskey saath low maintenance aur ekdum sahi driving experience deti hai yeh auto.

suppaabbbb

UystitfiyGxhcudydhxjcidhxhcjfudhdhdoyafjzgxhgGxjdyfzvhdlyvvxgsgxhhdyzbxhdyxxhdhxb,bxudhxbzjdBdFdjgkn

Super super super

Super super super super super super super super super super super super super super super super super super

Engene life very poor

1.(No Driver safety), 2.(very poor mileage), 3.(engene life not well) , 4.comfortable pessengers and Driver sheat, 5.driving not comfort

The best auto rickshaw you can buy in India

If it comes to buying an auto rickshaw that provides you the best return on investment and highest profitability, the Bajaj Compact RE is indeed the best choice in the market right now. The auto rickshaw is affordable, and is popular throughout the country for a range of perks that I can definitely agree to as a owner myself. Be it high fuel-efficiency or be it great performance and seamless handling, the auto rickshaw is truly worth buying for any auto rickshaw business operator.

Passenger auto

Superb quality assurance and quality assurance of a new one for you to the next few weeks back me up at me with your friends barthidare the railway

Superior engine power with high mileage

Bajaj dvaara Bhaarat mein sarvashreshth aoto riksha, Compact RE achchhe mailej vaale shahar ke lie sabase achchha kaam karata hai, kam maintenance, vaahan kee kam keemat ke saath yaatree ke lie achchha kebin space.Bajaj dealer bhee is aoto riksha kee keematen kam karane kee deel de raha hai.

Bajaj Auto is best

High mileage, lower maintenance, affordable and durable auto rickshaw. Highly recommended this bajaj auto for anytime. value for money

4

Jab koi autorickshaw khareedne ki baat karey toh Bajaj Compact RE ek aisa model hai jo apko list mein rakhna hi hai. Mere paas do aisa auto hai aur main abhi tak bohot hi khush hoon. Auto ka mileage bohot hi accha hai toh iss bazaar mein ap profit bana payenge aur uskey saath saath engine ka bhi apko petrol, LPG aur CNG option milega. Sab se bari baat hai ki yeh bohot hi affordable price mein aati hai jo ki apko autorickshaw ka business shuru karne mein bohot hi aasani hoti hai.

paisa wasool

Paisa wasool Itna saara options mein main bohot hi confused tha ki kaun si auto lena hai. Kuch din pehley main finally Bajaj Compact 4S khareeda jo ki mere hisaab se ek bohot hi accha vehicle hai. Auto ka segment yeh ekdum perfect hai aur bohot hi kaam daam hone ke wajeh se, isko khareedna bhi kaafi easy hai. Maintenance bhi low hai aur uskey saath iska mileage aur power dono hi tareef layak hai. Agar aap ko auto khareedna hai toh Bajaj Compact 4S definitely ek accha option hai.

No competitor for bajaj

Its like toyota for three wheeler, bajaj is the name of trust to all type vehicle, I love it from 1990 bajaj.

price is costly

Fuel efficient auto -ickshaw from Bajaj, but price is costly after bs6. Overall value for money vehicle.

only value auto with mileage.

Bajaj Auto rickshaw is the best. RE is only value auto with mileage. Bs6 engine is more good from bajaj.

best

If you want a good deal on an auto-rickshaw then buy only bajaj. Price is ok, specs nice and resale value, everything is good. Bajaj has no competition in the auto-rickshaw segment. Reliable auto, also available in CNG, LPG. But is Bajaj also now bringing in EV? It will be nice for customers, branded EV is better than local companies.

RE is high selling and good resale value,

I want to purchase a auto rickshaw, everyone telling me Bajaj Compact RE. Is there any other best rickshaw in the market? Mahindra, Piaggio or TVS… But RE is high selling and good resale value, I'm confused…

RE is good auto rickshaw

RE is good auto rickshaw, but now Ape and TVS also giving you good options. First time bajaj is getting compeition with better vehicles. Try anyone, good only. RE is very popular but look at other rickshaw, they are doing good.

This Bajaj Auto is best in India

This Bajaj Auto is best in India, not competition for Bajaj rickshaw. Don't buy any other but only bajaj. The Bs6 engine now better in mileage. Also now the cabin for driver and passenger done good by bajaj. I use this for my business for city people transport, happy with mileage and performance. No breakdown and also engine noise less now. Bajaj auto-rickshaw is number one vehicle in India.

I want to purcahse the CNG version.

After BS6 Bajaj increased price of this auto. Also petrol cost going very high, I want to purcahse the CNG version. The mileage of CNG is also good.

I loved this

Bajaj RE is now got better engine with BS6 type. The noise is less, the power is high and mileage is also more than BS4. I'm using a Ape auto-rickshaw but going to buy RE for my business to expand in next 3 month. I think Bajaj service is better than Piaggio, also the spare parts cost and maintenance is low for Bajaj auto-rickshaw.

I highly recommend buying this truck

best for city conditions. Take 3 passengers comfortably.

I highly recommend buying this truck

bhut purana or vishvas vala h bajaj auto or ye nya wala or bhi acha or dumdaar.

I highly recommend buying this truck

Accha auto he, mein pehle kiraye ka auto chalata tha, 2 saal pehle apna auto liya to bajaj pe vishwas tha isliye liya, finance asani se hua.

I highly recommend buying this truck

mera naam Iqbaal h or m Dilli se hu, bhut acha auto h or petrol bhi acha chalta h isme bhut or humare customer ko bhi pasand aate h ye.

I highly recommend buying this truck

mere pass Bajaj ka purana 2 strok aur 4S hein, bajaj matlab bharosa, mileage bhi ekdum roocstar. Mein sabse naya bajaj compact 4s hi kharidne ko kehta hun,

I highly recommend buying this truck

mene abhi bajaj ka nay auto kareda h or 1 ape auto bhi, mere bhai bhi auto chalata h. We all love bajaj.

I highly recommend buying this truck

bahut acha hai yeh auto....humari income achi hoti hai isse.maine pehle bhi auto chalein hain..par mujhe yeh sabse acha laga.Dumdar auto hai ek dum...
कॉम्पैक्ट आरई को इसके जैसे दूसरे ट्रक से कंपेयर करें
इलेक्ट्रिक

इलेक्ट्रिक