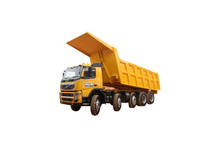 Key Specifications of Volvo FM 480
| | |
| --- | --- |
| Number of Tyre | 14 |
| Power | 480 |
| GVW | 59000 kg |
| Wheelbase | 6670 mm |
| Engine | 12800 cc |
| Fuel Tank | 270 Ltr |
| Payload | 38810 Kgs |
| Transmission | Manual |
Volvo FM 480 Specs & Features
Performance
| | |
| --- | --- |
| Max Power | 480 |
| Displacement (cc) | 12800 cc |
| Fuel Tank (Litres) | 270 Ltr |
| Transmission | Manual |
| Engine Cylinders | 6 |
| Emission Norms | E-III |
| Clutch | 400 mm dia., Drag type dual friction discs, power assisted |
| Gearbox | 14-Speed |
| Engine | Volvo D13A, DI Heavy Duty Turbocharged Intercooled,with Engine Management System (EMS) |
| Gradeability (%) | 30 % |
| Turning Radius (mm) | 13500 |
| Max Speed (km/h) | 50 |
| Max Torque | 2400Nm |
Design & Build
| | |
| --- | --- |
| Number of Tyre | 14 |
| GVW / GCW (Kgs) | 59000 kg |
| Wheelbase (mm) | 6670 mm |
| Payload (Kgs) | 38810 Kgs |
| Front Tyre | 12 x 24 |
| Rear Tyre | 12 x 24 |
| Ground Clearance (mm) | 390 |
| Axle Configuration | 10x4 |
| Overall Length (mm) | 9644 |
| Overall Width (mm) | 2800 |
| Overall Height (mm) | 3900 |
| Kerb Weight (Kgs) | 20190 |
| Chassis Type | Chassis with Cabin |
| Cabin Type | Day Cabin |
| Tiltable Cabin | Yes |
| Body Option | Rock/Scoop Body |
Comfort
| | |
| --- | --- |
| Cruise Control | No |
| Navigation System | No |
| Arm-rest | No |
| Seat Type | Standard |
| Driver Information Display | Yes |
| Adjustable Driver Seat | Yes |
| Tiltable Steering | Yes |
| A/C | Yes |
| Telematics | YES |
Safety
| | |
| --- | --- |
| ABS | Yes |
| Rear Axle | First rear Axle: Hub reduction Axle,Second rear Axle: Tandem Bogie Axle with differential lock |
| Rear Suspension | Multi leaf springs suspension |
| Front Axle | First front Axles: Twin heavy-duty straight Axles,Second rear Axle: Heavy-Duty Pressure adjustable Axle |
| Front Suspension | Leaf springs suspension,Air suspension |
| Brakes | Air Brakes |
| Parking Brakes | Yes |
| Tubeless Tyres | No |
| Seat Belts | Yes |
| Hill Hold | No |
| Fog Lights | No |
| Power Steering | Yes |
Others
| | |
| --- | --- |
| Landing Gear | No |
| Floor Type | No |
| Body Material | No |
| Canopy Length | No |
| Water Tank Capacity (KL) | No |
| Water Tank Type | No |
| No. Of Valves | No |
| Pump Type | No |
| Bulker Type | No |
| Bulker Discharge Pipe | No |
| Bulker Air Inlet Pipe | No |
| Bulker Equipments | No |
| Bulker Electricals | No |
| Length {mm (ft.)} | No |
| Floor Material | No |
| Width {mm (ft.)} | No |
| Side Board Material | No |
| Height {mm (ft.)} | No |
| Rear Board Material | No |
| No. Of Axles | No |
| External/Interior Surface | No |
| Axle Types | No |
| Refrigerating Unit | No |
| Body Brakes | No |
| Temperature Range | No |
| Chassis | No |
| Electricals | No |
Explore Volvo FM 480 Alternatives
FM 480 User Reviews
I highly recommend buying this truck

It's the best truck for transportation purpose which is seen by me when I was a supervisor at the construction site it's...
Compare specification of FM 480 Competitors
Ex-showroom Price in New Delhi
Volvo Trucks Dealers in New Delhi
Bnt Motors Pvt. LTD.

K – 258, Maanchand Dhania Marg,\N Near Gurudwara, Sirsapur,\N Gt Karnal Road, \N Delhi

Ve Commercial Vehicles LTD.

401, 4Th Floor, Salcon Aurum\N Plot No : 4, Jasola District Center\N Jasola\N New Delhi
Latest FM 480 Videos
FM 480 has video of its detailed review, specs, features explained & more. Watch our Latest video of FM 480 to know price, safety features, type of application & more.
04:34 mins

A 2400 Horse Power Truck! | TrucksDekho

Feb 22, 2017

03:52 mins

Drag Race: Truck VS Car | TrucksDekho

Feb 21, 2017

01:52 mins

Volvo FH 520 Euro 5 Puller Truck | TrucksDekho

Jul 08, 2016

01:11 mins

Volvo FM 400 Manual Truck Overview | TrucksDekho

Jul 07, 2016

03:54 mins

Volvo FM 420 Euro-4 6x4 Puller Truck | TrucksDekho

Jul 07, 2016