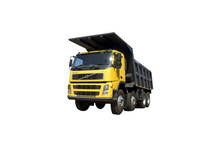 Key Specifications of Volvo FM 400
| | |
| --- | --- |
| Number of Tyre | 12 |
| Power | 400 |
| GVW | 31000 kg |
| Wheelbase | 6970 mm |
| Engine | 12800 cc |
| Fuel Tank | 270 Ltr |
| Payload | 14270 Kgs |
| Transmission | Manual |
Volvo FM 400 Specs & Features
Performance
| | |
| --- | --- |
| Max Power | 400 |
| Displacement (cc) | 12800 cc |
| Fuel Tank (Litres) | 270 Ltr |
| Transmission | Manual |
| Engine Cylinders | 6 |
| Turning Radius (mm) | 11050 |
| Emission Norms | E-III |
| Clutch | 400 mm dia., Double Disc drag type, power assisted |
| Gearbox | 14-Speed |
| Max Speed (km/h) | 87 |
| Engine | Volvo D13A, DI Heavy Duty Turbocharged Intercooled, with Engine Management System (EMS) |
| Gradeability (%) | 53 % |
| Max Torque | 2000Nm |
Design & Build
| | |
| --- | --- |
| Number of Tyre | 12 |
| GVW / GCW (Kgs) | 31000 kg |
| Wheelbase (mm) | 6970 mm |
| Payload (Kgs) | 14270 Kgs |
| Chassis Type | Chassis with Cabin |
| Cabin Type | Day Cabin |
| Tiltable Cabin | Yes |
| Axle Configuration | 8x4 |
| Front Tyre | 12 x 20 |
| Rear Tyre | 12 x 20 |
| Overall Length (mm) | 10076 |
| Overall Width (mm) | 2600 |
| Overall Height (mm) | 3665 |
| Ground Clearance (mm) | 285 |
| Kerb Weight (Kgs) | 16730 |
| Body Option | Customizable |
Comfort
| | |
| --- | --- |
| Navigation System | No |
| Telematics | No |
| Arm-rest | No |
| Seat Type | Standard |
| Driver Information Display | Yes |
| Adjustable Driver Seat | Yes |
| Tiltable Steering | Yes |
| A/C | Yes |
| Cruise Control | Yes |
Safety
| | |
| --- | --- |
| Seat Belts | Yes |
| Hill Hold | No |
| Power Steering | Yes |
| ABS | Yes |
| Rear Axle | First rear Axle: Hub reduction Axle,Second rear Axle: Tandem Bogie Axle with differential lock |
| Front Axle | Twin heavy-duty straight Axles |
| Rear Suspension | Multi leaf springs suspension |
| Front Suspension | Leaf springs Suspension |
| Brakes | Air Brakes |
| Parking Brakes | Yes |
| Fog Lights | Yes |
| Tubeless Tyres | No |
Others
| | |
| --- | --- |
| Body Brakes | No |
| Temperature Range | No |
| Chassis | No |
| Electricals | No |
| Landing Gear | No |
| Floor Type | No |
| Body Material | No |
| Canopy Length | No |
| Water Tank Capacity (KL) | No |
| Water Tank Type | No |
| No. Of Valves | No |
| Pump Type | No |
| Bulker Type | No |
| Bulker Discharge Pipe | No |
| Bulker Air Inlet Pipe | No |
| Bulker Equipments | No |
| Bulker Electricals | No |
| Length {mm (ft.)} | No |
| Floor Material | No |
| Width {mm (ft.)} | No |
| Side Board Material | No |
| Height {mm (ft.)} | No |
| Rear Board Material | No |
| No. Of Axles | No |
| External/Interior Surface | No |
| Axle Types | No |
| Refrigerating Unit | No |
Explore Volvo FM 400 Alternatives
FM 400 User Reviews
I highly recommend buying this truck

Volvo is good track in India. He is very satisfied tracks in India. And very big job in India. And very important in the...
Compare specification of FM 400 Competitors
Ex-showroom Price in New Delhi
Volvo Trucks Dealers in New Delhi
K – 258, Maanchand Dhania Marg,\N Near Gurudwara, Sirsapur,\N Gt Karnal Road, \N Delhi

Ve Commercial Vehicles LTD.

401, 4Th Floor, Salcon Aurum\N Plot No : 4, Jasola District Center\N Jasola\N New Delhi
Latest FM 400 Videos
FM 400 has video of its detailed review, specs, features explained & more. Watch our Latest video of FM 400 to know price, safety features, type of application & more.
04:34 mins

A 2400 Horse Power Truck! | TrucksDekho

Feb 22, 2017

03:52 mins

Drag Race: Truck VS Car | TrucksDekho

Feb 21, 2017

01:52 mins

Volvo FH 520 Euro 5 Puller Truck | TrucksDekho

Jul 08, 2016

01:11 mins

Volvo FM 400 Manual Truck Overview | TrucksDekho

Jul 07, 2016

03:54 mins

Volvo FM 420 Euro-4 6x4 Puller Truck | TrucksDekho

Jul 07, 2016