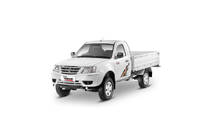 ₹ 8.12 - ₹ 8.81 Lakh*
*Ex-showroom Price in
New Delhi
Yodha Pickup User Reviews
Tata Yodha - Comfortable Cabin

Tata Yodha is best small commercial vehicle available in market. It comes with a superior, ergonomically designed cabin with high on comfort and safety. It also gets gear shift advisor, wider and bigger load body, comfortable upholstery, and improved fuel economy and many more.

Tata Yodha - High Performance

Tata Yodha is the best truck in terms of payload capacity and performance, I am using this truck from a time and I am very much satisfied with it's performance. It also has best in class ground clearance which helps in rough roads.

Best Pickup Trucks - Yodha

I purchased Tata Yodha because it is the perfect pickup truck which can easily be loaded beyond its capacity and which doesn't even affect its performance. Has plenty of cabin space in which 2 people can be seated comfortably. Yodha is based pickup for my dairy business, best in safety & mileage, also having 4 X4 driving options

Low Maintenance- Tata Yodha BS6

I bought this truck for my mineral water supply. It has many features like gear shift advisor, wider and bigger load body, comfortable upholstery, and improved fuel economy, etc. The interior is incredibly comfortable compared to my previous truck. The ride quality is the best. Its low maintenance cost vehicle with some amazing features.

Priceworthy- Tata Yodha BS6

I purchased this truck & it is suitable for me. this vehicle comes with a superior, ergonomically designed cabin with high on comfort and safety. Its powerful BS6 engine delivers good mileage and payload capacity is much satisfying. I am very much impressed with its performance and sufficient loading capacity in a Budget Commercial Vehicle.

Powerful and elegant Truck

The Tata Yodha has been of the major contributors for my business and has become my daily companion ever since 2019 when I bought it. The driving of the truck is much easier due to the presence of superior suspension by Tata. the effective steering of the Yodha helps me greatly in taking steep turns and also helps in the change of lanes easily. The truck is also quite safe as the air brakes can easily stop the vehicle even at running at high speed. I highly recommend buying Tata Yodha due to its practical application and the level of comfort it provides.

I don't recommend buying this truck

Not so good vehicle, mileage is lower. Price is high. Bolero Pik Up is better in comparison.

I highly recommend buying this truck

Mera Yodha 3 sal purana hai. Gadi thik hai. Mai milk transport karta hu Ahmedanagar me. Pune, Aurangabad aur Ahmednagar road pur mileage think hai. Yodha 12 km ka mileage deta hai. Kai problem nahi hai, Tata service be think hai.

I don't recommend buying this truck

Real world mileage is 7 kmpl. Mahindra imperio ka interior jada best hai. Yodha average gadi hai.

I highly recommend buying this truck

Tata Yodha 2 sal se chala raha hu. Gadi good hai. Average 10-11 km deti hai, lakin pickup and power accha hai. Ye gadi general cargo aur market load ke liye suitable hai. Meri Yodha daily 100 km chalti hai, 2 sal me koai bhi problam nai aaya hai. Tata ki service bhi hai available. Yodha Xenon se kafi change model hai. Mai Yodha water botle aur courier parcile ke liye use karta hu Jalandar me. Kafi khush hu performance se. Good vehicle.

I highly recommend buying this truck

Mai tata Yodha 1 sal se chala raha hu water bottle ke liye. Mileage 16 km ki milti hai. Mohindra bolero pickup sa jada pickup ha Yoddha me. I love tata Yodha

I highly recommend buying this truck

Tata ka subse aacha gadi pick up segment me. Tata warranty de raha hai, kafi strong gadi hai, city or village dono ke liya jabardast hai. Mileage thoda kam lagta hai, lakin loading capacity good.

I highly recommend buying this truck

SDAJKZC

I highly recommend buying this truck

Good pick-up from Tata Motors. Good bult quality, nice for city logistics…

This truck is just okay

Is gadi me 3 ton bharta hu kafi acchi chlati he or iska deisal 12.50km/lt.ka aata he

I highly recommend buying this truck

sirr ye gadi m din m saman load krne ke kaam ati h or rat m savari bithata hu.. dono m badi kam ati h..

I highly recommend buying this truck

gadi ka hight ache h or driver ko acha virw ata he

I highly recommend buying this truck

mere uncle ke pass tata yodha h or unhe ye gadi kafi pasand h. ye humare kafi kam aati h saman ko lane lejane m.

I highly recommend buying this truck

Mujhe bhut pasand h tata yodha or iski hight bhi achi h or iske tyre bhi bhut bade h jo ki mitti m ise fasne ni dete.........

I highly recommend buying this truck

I purchse it when tata launched it new, very happy with design and style. I am a small businmen and my cre cab Yodha is very usefull for small buisenessmen who deliver cargo door to door. It has very spacious trolly which I like very much, I can load huge luggage for touring every time which is very good daily for a small vendor like me I also get very good mileage of 18 and also d also it is flexible for streets.

I highly recommend buying this truck

I use my crew cab Yodha for everything, my family, private use, for office and also for my business. I use it for small mining work and carrying goods as well. in short, it is very suitable for one who is more passionate about his business and off-road work and life.

I highly recommend buying this truck

Hello people, I have Yodha crew cab. It is the best mini pickup truck. The mileage of the vehicle is also very good for me at 18km average and inside it has good space for my crew and back has huge capacity to hold our luggage. The Yodha crew cab leg room is good for long ride and I like this Comfortability of the vehicle.

I highly recommend buying this truck

It is a very good pickup truck for heavy duty luggae capacity. I also use it as well as for daily requirement. The loading capacity is very nice and I carry a lot of cargo satisfactory. In load when you drive, it handls good while taking curves. The ground clearance of the Yodha is decnt. The crew cabin Yodha looks fantastic and modern and everybody like it, it has solid suv look that is stylish and also carry a lot of cargo.

I highly recommend buying this truck

I am talking this is on the basis of my experiences with my own tata yodha. when we are talking about its look and style it is just awesm. it is strong build and a well designed pick up. It will surely attract the stylish minds of youth in our country. This tata yodha vehicle is can be good for private use and business use both. When we use this vehicle for commercial purposes I can say the loading capacity is very huge. so we can use this as luggage carrier. The leg room of this vehicle is good and adjustable for long dirver and makes comfort driving postion. When we are talking about comfort, the Yodha suspensions are very strong but for loading, overall comfort of this tata yodha vehicle is good. Service is well .

I highly recommend buying this truck

Tata yodha is very stylish and is one of the strongest version in pick up model of Tata. Tata is very big name in the market of heavy and light vehicles manufacturer. The Tata yodha is designed in a very good way because it alwys fulfil all the needs of individual and market both all the time. I like the engine is very powerful. My Yodha has storng suspension and can be used for any rough and tough work. It has enough space for me as well for goods. The look of the yodha is very strong and handsome. The yodha is especially designed by tata for Indian roads and challenges in market. I like the interior of the pickup which is also very good. Milega is awesome, I get 16 km average. For me I say Yodha is really a Warrior in transporting business.

I highly recommend buying this truck

from my experience I would like to say that my Tata Yodha is the best pick up truck in India. Overall, my Yodha is a good vehicle. at the same time I can use my Yodha as a cargo truck and a suv and it looks smashing. For luggage and drive, both conditions my yodha gives good performance. I like it has power steering and strong AC cabin. Power Windows etc. My Yodha gives a good mileage in both city and highways. My mechanic says its gives low maintenance. it's a best choice

I highly recommend buying this truck

The best off road pickup I drive and it perform very well with powerful smooth engine and solid body of onroad and ofroads. it carry always huge load and its also gives me a driving comfortable. It is also very good for low maintenance and makes great mileage. It is a profitable for my budget. stylish and is very low maintenance and the high driver comfort. masculer look like hero and the interior are very good for me and my friends travel and comfort. Thank you

I highly recommend buying this truck

I use this vehcle daily First off it is verysolid and good pick up. this vehicle is best strong make as compared to others. Its safety features are also very good which I like in case of accident ceiling will not fit directly to driver, it also is due to air pockets present in the front side of vehicle, it will not give high jolt it lower the force of collision. This vehcicle is also very comfortable to drive for my driver, they say is contents 2 fan one fan always on and second starts only if temperature of vehicle go above 85 centigrade this increase the thermal efficiency of vehicle it is very comfortable designs basically super driver comfort.

I highly recommend buying this truck

I like style and powrr, my tata 4x4 yodha is very super duper vehicle. more powerful vehicle, got the capacity of Yodha is 3 to 4 toone , its big capacity dala. I like my more powerful gaddi this Yodha has 16 inch tyres. I use for long route this Tata yodha gaddi for better pickup it smoothly move on the road with owsome milage the powerful body and this vehicle I use for papa ka commercial and industrial works. I use it for more and more loadable vehicle and also cheap price .the tata company dealer always has every vehicle parts are available in every shop and every area.

I highly recommend buying this truck

its have good featurw insid, its cabun have many space in this mini truck, very good in long drive from gaun to dilli. Very good for working pura din, its very big for sbaji laod for good space its good working every where. Dealer my friend, very fully satisfy deale. My Yodha its good in performence its powrrful truk its feature good its mailage good. eally good truck for working its looks good working good performence good

I highly recommend buying this truck

My villeg all got tractors, I said, I want fast delivery of my vegtebls to market, I got Tata Yodha. Ab all villeg have pickup for delivery and tractor for khet only. I use my tractor in the agricultural field only but the Yodha for its real turbo drive engined vehicle. My villeg roads bad, iska 4x4 handle evrythng. Now no need of the tractor for market. Now my friends also use Yodha for makret. Yodha hav a very good capacity vehicle in all the fields. It is has good laoding, very high capacity. Egnine super strong and it t helps formers at Hill station side.

I highly recommend buying this truck

My Tata Xenon Yodha is a powerful pickup and I am using my Yodha as a loading truck for my business. This was my first pickup in my own business and I am happy it has helped me a lot in growing my business. I like the loading capacity of my Yodha which is extremely high. It also has very strong Suspension for laoding and bad roads. It has a very powerful engine. I like the traction control of the wheel under high load condition. I drive it myself for my business and it has a very stable handling on the road. I deliver goods to hilly regions and my Yodha does not disappoint in climbing mountains. For it ghats are no big deal. I do not like the cabin comfort because it offers less comfortable feeling. Good thing, I am tall and it offers a sufficient amount of leg room and provides an average comfort. I drive it myself, I maintain all rules and drive safely, it gives me good average of around 20 kilometer. I am happy with my Yodha and tll all who start their business to buy it, it helps in growing business.
Tata Yodha Pickup Comparison with Similar Pickup