Tata Ultra Sleek T.6 User Reviews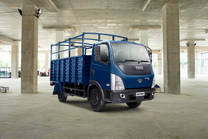 11 Reviews
₹ 13.95 - ₹ 13.98 Lakh*
*Ex-showroom Price in New Delhi
Ultra Sleek T.6 User Reviews
Liked this

Liked this tata lcv truck. You can buy this anytime.

better looking LCV truck

T6 Ultra is better looking LCV truck. The cabin is comfortable and compact desing, both good looking and performance truck. But I think little costly but worth considering because of the engine power and caapcity of cargo delivery in city and town both. Suitable for container body. New desing truck by tata, good work, value for money truck.

Good Truck

I was looking for cargo truck in 6-7T GVW cargo segment, stuided all the brands. I liked Eicher and Ashok Leyland partner, but then Tata Motors launched this Sleek series with Ultra cabin. This truck looking good, then I visited the tata dealers, took test drive and liked the T6. I purchased it in Jan 2021 with good deal by Tata leader in Indore. The engine is poweful with 100hp, the cargo deck size is large and 14 inch tyre allow me to take cargo to any terrain. So far the average is fine, not maintennace cost and perofrmance if good. Happy with the Sleek series of truck. Recommend this Tata Ultra LCV to everyone.

Good for all logistics transport needs.

BEst LCV in India, Tata is number one. Buy T6 for all logistics transport needs.

Good for market load and electric transport

The new Ultra Sleek range from Tata Motors is a good vehicles, modern and stylish truck. I'm a fleet operator in Bangalore using different trucks for my logistics business. This new T6 is new generation Tata truck liked by my drivers, we have taken a test drive. Cabin is nice. I'm planning to buy this truck for market load and electric and furniture transport.

Container available?

Ultra truck is costly than 407. Whats milage of this truck? Container available ??

top class truck.

Best LCV vehicle by Tata. Blue color truck is top class truck.

available in Talengana?

New Tata LCV, sleek T 6 cool looking truck in India. The cabin is first class.

Good Payload Capacity

Tata Ultra truck in the LCV for first time. Super truck for many logstics and cargo transport business. Cargo body is big and cabin is high standard. I want to buy this truck for market loads and industrial material.

liked the truck.

New design truck by Tata in the LCV market, saw this new truck at Pune dealership. Looking great, built quality and features make it top in the segment. Price is not sure.

nice truck

Want to buy this new Ultra truck for construction material transport in Vijaywada. I liked the design and cabin also. Better looking tata truck in the LCV category.
Compare of Ultra Sleek T.6 Competitors