Tata 1412 LPT User Reviews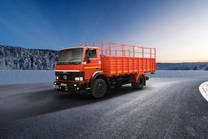 14 Reviews
₹15.60 - ₹17.62 Lakh*
*Ex-showroom Price in New Delhi
1412 LPT User Reviews
14 tonnes ki best option

Indian market mein Tata 1412 LPT ek bohot hi popular truck hai aur bas kuch din pehle hi maine yeh truck khareeda. Abhi tak yeh truck se main bohot hi khoosh hoon. Dumdaar performance aur uskey saath kaafi acchi fuel economy and cabin comfort ke saath yeh truck long distance cargo hauling ke liye ek bohot hi acchi choice hai.

सर्वोत्तम टाटा ट्रक

लहान आणि मध्यम अंतरावर मालवाहतूक करण्यासाठी खूप सक्षम आणि परिपूर्ण आहे. तुमच्या मालकीचा लहान व्यवसाय असल्यास आणि तुमच्या व्यवसायासाठी हलक्या ट्रकची आवश्यकता असल्यास, हा एक मूल्याचा पर्याय आहे आणि तुमच्यासाठी योग्य पर्याय आहे.

Tata is best in India

LPT trucks always performing well, very well record. Don't buy fancy truck but go for cheap and best LPT, you get mileage, payload, low maintenance, resale value also.

suspension quality good

Famous tata now BS6 engine with power. 9-12T paylaod capacity of this truck for any type of cargo movement. Nothing like lpt cabin, cheap and best, durable also. Tata is Best with LPT in thia cagotry of trucks. Don't look any vehicle only LPT 1214 is the final. Full tata support and also engine and suspension quality good any road or cargo, no worry.

Tata Motors best ICV truck in India.

You can buy anytime because mileage is high and also take any type of cargo easily in city or town delivery. Cabin is also improved by Tata. Value for money truck.

1412 is well-know truck

1412 is well-know truck for many year now, but today, you have options in this category other than Tata. BharatBenz, Eicher and Mahindra also giving better truck. Check all before you want to buy, new brand also offer better price and deal to you.

Tata truck is the best in India.

Don't look anywhere, just buy Tata truck, low price, good mileage, maintenance and overall value for money. Why pruchase new brand if you get everthing. The 1412 LPT is old Tata truck for ICV use, buy anytime. Not thinking.

LPT 1412 is famous truck

LPT 1412 is famous truck but now Eicher and BharatBenz alsog giving good truck in the category with more features and high mileage engine. BharatBenz cabin is good, Eicher give lot of feature for ICV truck like cruise control-that help in highway driving.

Buy 1412 for mileage and resale value

East or West, Tata is the best. Buy 1412 for mileage and resale value. Built any body you want, the performance is good always. Good vehicle the 1412. proven and reliable.

1412 is good tata truck

Ashok Leyland Boss, BharatBenz and Eicher also offer competition in 14T GVW category. 1412 safety feature is less, but not costly truck.

1412 get big cargo deck.

The suspension is nice for smoother ride even with heavy cargo. Price is good compare to Leyland and BharatBenz truck. BS6 mileage performance??

super logistics truck.

I like Tata trucks, 1412 is super logistics truck. But not known the BS6 quality.

Cabin need more safety features.

best 6 tyre truck for intercity trips. But I want bigger tyre size for heavy loads.

This truck is number one in the category.

LPT trucks from Tata are reliable truck for cargo logistics needs. 1412 truck allow you to carry good 9-10t payload without milage issue.
Compare 1412 LPT with Competitors