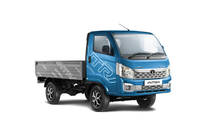 ₹ 6.92 - ₹ 7.22 Lakh*
*Ex-showroom Price in
New Delhi
Intra V30 User Reviews
Tata Intra V30 - Feature Loaded

I found Tata Intra V30 best as it is a feature loaded truck with Driver Information Display, Adjustable Seats, Disc Brakes, Tubeless Tyres, Electric Power Assisted Steering and many more which makes ride comfortable and easy.

Tata Intra V30 - Easy to Drive

Tata Intra V30 is best compact truck with all necessary features and performance. It is easy to drive even in city congested roads. It has best loading capacity upto 1000 kg which is suitable for moderately heavy and voluminous loads."

Price Worthy- Tata Intra V30

Intra V30 is the best truck of Tata. Comes with 1496cc engine which gives a very good mileage and it has nice payload capacity for the loading and delivering goods. It comes with advanced features. I have not face any breakdown issue. Very good vehicle. Builty quality is also good.

Powerful - Tata Intra V30

Using since 6 Months in Jaipur(Rajasthan), comes with a 1496cc Turbocharged Engine which Gives a Smooth Performance in Every Condition from Smooth Roads to Offroading Tata Intra V30 is best. Best Aftersales Service is of Tata.This truck comes with the characteristics of Reliability Safety and Comfort.

Low Maintenance Tata Intra V30

Tata Intra V30 My Friend Recommended Me to buy Tata Intra V30 Truck for my Business Because It comes with Safety Features likeThe chassis frame has been manufactured using hydro forming process & state of the art robotic facilities delivering high standard of quality and sturdiness. Apart from that, It gives Good Mileage and Low Maintenance, I am very happy with Its Performance.

With Good Features Tata Intra V30

I am Driving Tata Intra V30 from few Months. Mostly I go for long routes and it gives me good mileage and comfortable driving experience. It comes with air brakes, parking brakes, leaf spring suspension and seat belts that ensure the safety of driver and co-driver while driving. Also, its cabin is designed very comfortable with Features.

Strong Body Tata Intra V30

I am Driving Tata Intra V30 from last year. I have purchased it for my business. It's very smooth to drive on Highways as well as bad conditioned roads. Its body is strong that increase its durability. It gives good mileage with low maintenance. Overall I am satisfied with its performance and Tata Intra V30 Profitable for Me.

Eco Mode Feature of Tata Intra V30

I have purchased Tata Intra V30 for my business because it offers me great fuel savings with a good payload. I am very satisfied with its performance. I love its eco-mode feature by which drivers can switch from normal to the Eco mode that provides low turnaround time. According to features, price is also affordable. I recommend it to others who are looking for a commercial vehicle with good performance.
Tata Intra V30 Comparison with Similar Mini Truck