SML Isuzu Sartaj GS HG 75 User Reviews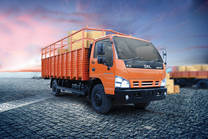 2 Reviews
Price Coming Soon
Sartaj GS HG 75 User Reviews
Sartaj HG 75 BS6 - Best MDT

This is the best customizable medium-duty truck with 5-speed manual gearbox. Best thing about this truck is the features like Single Plate Diaphragm, Chassis with Cabin, Deck Body, Power Steering, Driver Information Display etc. It has a powerful engine and service is also good. All advanced features make this truck so comfortable.

SML Isuzu Sartaj GS HG 75- Low Maintenance Truck

Specially for small businesses on city roads. Low Maintenance Cost also cheap spare parts for replacement with best in class durability, It helps to save my time and effort constantly. 4 Engine Cylinders with 3455 cc engine for better efficiency and better output leads to best driving stability.
Compare Sartaj GS HG 75 with Competitors