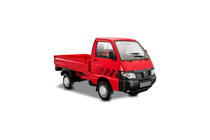 Porter 700 BS-IV User Reviews
This truck is just okay

Piaggio Porter normal gadi hai, mileage thoda kam hai. Kimat ok ok ok….

I highly recommend buying this truck

I run transport business in local market. I already have 2 Tata Ace who are also doing fine. But I needed one more truck for expanding my business. I thought of buying Tata ace, but as I was about to expand my business in rural area where road condition is not as good as cities so I wanted more sturdy vehicle. So I took test drive of Mahindras Jito and Piaggio's Porter 700. There is difference in cost of the vehicle. Jito is at much lesser cost, but it you can notice the difference in cost as soon as you start driving Porter. It is one of the finest truck I ever saw. It can take load upto 1.2 tonne. Servicing cost is very less and km interval are very high (first servicing after 1000km and then 10000km). Ground clearance is more than jito and ace. Dashboard design gives feel of car. Cabin space is very good. More over the highest speed is upto 65km/hr which is maximum. and miliage is 29 to 30km/ltr. My drivers are also happy about the product and I highly recommend the product.
Piaggio Porter 700 BS-IV Comparison with Similar Mini Truck