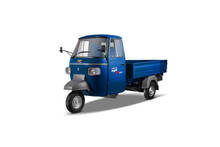 Ape BS-IV User Reviews
Best 3 Wheeler-Piaggio Ape

I am using this since 1 year and has become my best choice. Best vehicle for loading and delivering the goods within the city area. Payload capacity is also good so can be used for the loading of lightweight material. Mileage is decent. Its 435 cc engine deliver good performance. Disc brakes helps in controlling the vehicle in traffic.

Price Worthy- Piaggio Ape

Best 3 wheeler vehicle for the commercial purpose. comfortable and easy driven within the city with 560 Kgs loading capacity. Deliver good mileage and have spacious body structur e for the large amount of luggage. I think i have taken good decision by taking this for my business.

Piaggio Ape – Value for Money

Three-wheeler light commercial vehicle can be Easily Driven in City traffic and narrow roads also has low maintenance cost that becomes the big point to buy this vehicle for your daily business needs to be fulfilled.

Powerful and spacious three-wheeler

The Piaggio Ape has been one of my recent purchases for a newly formed venture of delivering food items within the city. Post-six months of my purchase, I can happily conclude that I made the correct decision as this it offers me a very nice mileage return. Also, the spacious wide body at 1400mm helps me to load a large number of goods. The robust engine of 435.6cc in this three-wheeler is very efficient when it comes to driving in all forms of terrains. Lastly, I am very happy about this purchase of mine, highly recommended.

I highly recommend buying this truck

Pros: Good and easy to drive in city traffic. Best in class milage. Lower maintanace cost. Value for money. Easy operatablity Cons: No back weight, lifts the front of the vehicle if loaded heavy in the back. Gives arm pains due to seering type, since holding the handle and due to one side shock absorber, arms are getting much pressure, which makes life more hard.

I highly recommend buying this truck

Piaggio ape is the very Good truck for picking up Materials and routine work, it is a very cost effective truck and Pick up is very good. Sometimes vehicle gives vibration. Save Rs. 1 for each 1-kilometer. its will help you to avoid big expense at the time of Vehicle service.
Compare of Ape BS-IV Competitors