Piaggio Ape City User Reviews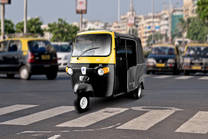 11 Reviews
₹ 1.95 - ₹ 1.96 Lakh*
*Ex-showroom Price in New Delhi
Ape City User Reviews
cabin is big for comfortable long day driving

If you want an auto-rickshaw that is easy to drive, give you good mileage and also costs you less then not better options than Piaggio Ape City. The service of Piaggio is good anywhere in India. The maintenance is low in both the CNG and LPG petrol. The suspension of this auto makes it comfortable even on bad roads, also the driver cabin is big for comfortable long day driving. Ape City auto is best against the competition anyday. Buy it.

go for it

Piaggio Ape is not very great compared to Bajaj auto-rickshaw. I think the compact RE will be a better option because of reliability and comfort. Ape is City. LPT is not giving me high power and also the mileage is ok. Go for Bajaj auto-rickshaw.

Consider this auto and recommend one.

Ape City auto is cheaper than Bajaj Compact RE and also good in performance. You can go for Piaggio Ape City because the BS6 engine's 8.8hp engine is refined with lower noise and super mileage. Piaggio has made the cabin better with wider seats and higher legroom for passengers. You can carry 3-4 passengers in this auto at any time with some luggage space also.

Good auto-rickshaw for everyday mobility.

Piaggio Ape City is one auto rickshaw that takes on Bajaj RE. Ape City cabin is big enough to take 3 passengers easily, the mileage for outside city drive is also high. Ape City auto is reliable for longer distance routes, I can suggest this auto for anyone looking for running personal business.

high mileage and the price is ok.

Ape City auto-rickshaw in the BS6 avatar performs better for city driving. This Piaggio three-wheeler's 230 CC is making less noise but the pickup has got better. You can consider this new Ape auto over the Bajaj Compact RE because Ape will give you high mileage and the price is ok.

good for passenger transport

Super Auto Rickshaw, Ape is number one gaadi. Buy for all passenger transport.

piaggio is giving you good features

Not very good auto because of the engine. I think the engine makes more noise. But piaggio is giving you good features and bigger passenger seat.

You can buy this auto rickshaw for city use.

The BS6 engine is giving lower mileage in Chennai, but powerful engine with high pickup for city roads. Price also increased by Piaggio.

Overall super Auto.

I liked the smooth suspensions of this auto rickshaw, comfortable for village roads also. But mileage is ok. I want higher mileage. Overall super Auto.

low maintenance auto-rickshaw.

New BS6 City from Piaggio's Ape brand is far improved than the earlier generations auto. Better mileage, big passenger cabin & low maintenance auto-rickshaw.

Fully Built- Piaggio Ape City

Piaggio Ape City is good 3 wheeler in BS6 engine with amazing features like Forced Air Cooled Engine, CNG Fuel type, Driver Information Display, Handle Bar Steering and also it has many safeties with Parking Brakes, Drum Brake etc. It has 12V DC battery with 8.85 bhp max power. Found this vehicle good for public use with easy maintenance.
Compare of Ape City Competitors