Explore Mahindra Truxo 31 Alternatives
Truxo 31 Highlights
May 20, 2016: Mahindra Truxo 31 is another heavy load carrier from the company with a GVW of 31,000 kg. This Mahindra truck has a good payload capacity and is fit to carry big containers, newly manufactured vehicles, machine parts, market loads, and others. Available in 6,100 mm wheelbase, prices for Truxo 31 start from INR 21.8 lakh ex-showroom. Its engine specifications include an m-Power 7.2 Litre 6-Cylinder TCIC motor complying with BS-III norms, which churns out 202 bhp power and 920 Nm torque. Tiltable power steering, separate parking brakes and seat belts keep long trips safer and maneuvering the vehicle easier. The gradeability and top speed stands at 23% and 85 km/h, respectively. The cabin is available in single and double sleeper berth options and is equipped with driver information display, factory fitted fans, comfortable and adjustable seats.
Mahindra Truxo 31 Price List (Variants)​
View All Variants
Mahindra Trucks Dealers in New Delhi
Greenland Motors Private Limited

Showroom - BG-217 SANJAY GANDHI TRANSPORT NAGAR

Indraprastha Automobiles Pvt. LTD.

K-282, Siraspur, Near Gurdwara,Main G.T Road, New Delhi

Shiva Auto Cars India Pvt LTD.

88 Fie,Patpargang,Indl Area, New Delhi

Skyline Automobiles

1E/11,Jhandewalan Extn New Delhi
Mahindra Truxo 31 Comparison with Similar Truck
Ex-showroom price in New Delhi
Mahindra Truxo 31 Truck- Expert Review
Mahindra Truxo 31 EXPERT REVIEW
Overview
Mahindra has gained a lot of ground in the Indian CV market in last few years. It has become one of the fastest growing truck makers in the country. The range of commercial vehicles that Mahindra provides is famous for the life and mileage it offers. Mahindra Truxo 31 comes in Cowl, Cab, FSD and HSD body options. The base version of the truck is priced at INR 21.8 lakh. It is powered by a mighty 7200 cc engine that produces 199.2 bhp at 2200 rpm. The maximum torque ratings scale 920 Nm @ 1250 rpm.
The truck's gross vehicle weight stands at 31000 kg which, in simple terms, enhances its weight loading capacity. Truxo 31 comes with a maximum gradeability of 23 per cent and a 6+1 reverse gear box. The engine is tough enough to supply good power even at lower gears. Mahindra also offers fuel tanks in options of 417 and 250 litres apart from the 350 litre standard fuel tank.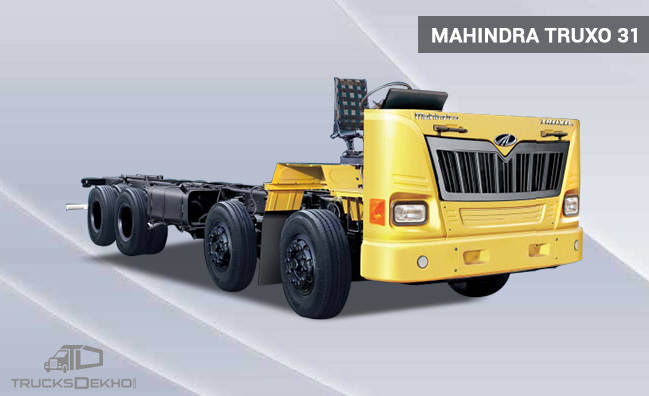 Specs
Engine - m-POWER 7.2 lit, TCIC BS-III
GVW - 31000 kg
Wheelbase - 6100 mm, 7925 mm and 8229 mm.
Engine and Performance
The 7200 cc m-POWER engine from Mahindra complies with BS-III norms. It produces a maximum power of 199.2 bhp @ 2200 rpm and a maximum torque of 920 Nm @ 1250 rpm. The stats are good both on paper and road. The engine has no lags and the torque generated is enough to push the truck around even in small gears. The truck can reach a maximum of 85 km/hr but it is strongly recommended that the driver maintain speeds below 65 km/hr as the opposite could prove fatal.
Vehicle Built and Load Capacity
Mahindra offers the truck with cowl with chassis, and cabin with chassis options which technically means there is nothing much to talk about here. However, the chassis of the truck along with the cowl and cabin quality are good and have the potential to be turned into a good truck overall. The cabin versions come with manually tilt-able cabin options.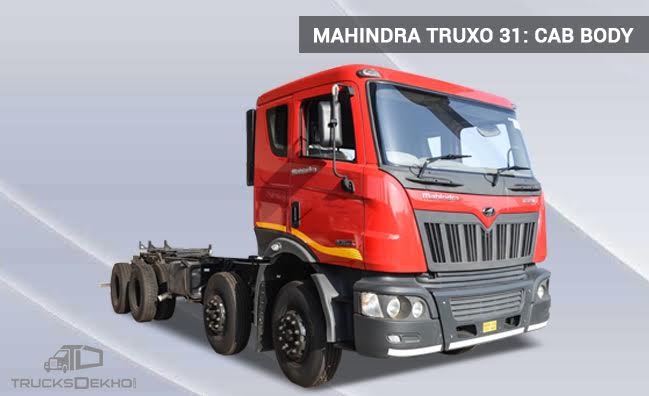 Handling and Suspension
Truxo 31 comes equipped with a tilt & telescopic power steering with twin steer axle. The steering works well with all the three wheelbases offered by Mahindra. The power steering on the largest wheelbase feels a bit fatigued but gets comfortable once you get a hang of it. The suspension settings feel good too, but when fully built, things might change by a bit or two. The truck does not offer anything more in terms of suspension.
Braking and Safety
Mahindra does not offer ABS with the cowl option but the cabin variant of Truxo 31 comes with optional ABS. A factory fitted vehicle tracking system equipped on the trucks helps in finding the exact location of the truck. Full S-Cam, 10 bar system brakes feel strong but could have been improved given the GVW of truck. The stopping power somehow lacks the punch. The ABS version of the truck on the contrary offers much better stopping time.
Design and Comfort
The cabin version of the Truxo 31 is ergonomically designed and offers ample comfort features. Mahindra offers AC as an add on option with cabin variant. The face of the cabin has modern touches to it while the interiors are not that exciting. The double sleeper version of the truck offers good space for two but overall the cabin settings may do nothing to prevent driver fatigue.
Truxo 31 User Reviews
0 Reviews, Be the first one to rate
Mahindra Truxo 31 In News
Latest Videos
Mahindra Jeeto Specification Review

Jul 08, 2020

Supro Maxitruck- Vijay Walunj

Jun 08, 2020

Supro Maxitruck- Sunil Sawant

Jun 08, 2020

Supro Maxitruck- Nithin Manjree

Jun 08, 2020

Supro Maxitruck- Vinod Chourasiya

Jun 08, 2020