Mahindra Treo Zor User Reviews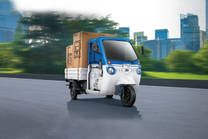 9 Reviews
₹ 3.12 - ₹ 3.48 Lakh*
*Ex-showroom Price in New Delhi
Treo Zor User Reviews
Better electric vehicle in the market

Not very powerful for heavy load but this electric auto rickshaw from Mahindra much much better than any other electric vehicle in the market. Don't go for local player with heavy battery which is not warranty, long charging time and also range is limited. Mahindra is giving you longer guaranteed warranty on the Treo Zor. So, you can run full day for local delivery business. Running cost lower than diesel, CNG, also easy to drive with zero sound and pollutants. Price is okay but negotiate for better deal.

Best options cargo e-rickshaw

A year ago, I purchase Mahindra Treo Zor for daily ecommerce delivery business. This vehicle performance good, power, range is decent Also, the handling of the vehicle is excellent in almost in city road and narrow turns. The low maintenance cost has been a cost-effective measure for my business and has made me a decent profit. Overall, if one is tight on budget and is looking for electric three-wheeler for cargo, then Treo Zor from Mahinra is best.

Powerful and value for money cargo e-rickshaw

Agar aap yeh soche the ki electric cargo carriers ki capacity utni acchi nahi hoti aur electric vehicle load carry karne ke liye sahi nahi hai, toh aapko Mahindra Treo Zor ka performance aur capacity dekhni hogi. Yeh 3-wheeler cargo carrier kaafi petrol aur diesel models ko bhi takkar de sakti hai. Bahut hi accha capacity hai iski aur uskey saath saath engine ka performance aur battery ka range, do no hi perfect hai. Apko na charge ki chinta rahegi na apko load carry karne mein koi pareshaani hogi. Ek value for money package hai yeh 3-wheeler electric cargo carrier.

overall I say a better option

I purchased Zor in February this year after looking at Piaggio, Atul and other brands, using the electric auto for bigbasket delivery. Mostly running in 20 km area of chennai. So, not all good about this vehicle but overall I say a better option. I liked the overall speed, battery range and also lower running cost. But the built quality is not very great, limited payload fine but more heavy laods means the power is less and battery down quick. If you want to shift to electric rickshaw mahindra is best options, don't buy other brand, because they don't give you service or warranty easily.

good pickup

I bought Treo Zor last month only, good pickup, power, battery charge is fast and range more 100 km is good in daily use. Driving is smooth and payload capacity is also good. Very happy with this vehicle, recommend to anyone want to buy electric auto-rickshaw in cargo segment.

Zor is strong vehicle.

Mahindra Zor looks like any diesel cargo three-wheeler, I visited a dealership in Chennai to check this vehicle. Overall, Zor is strong vehicle. It can take cargo delivery easily, also easy to driver and power is ok also. Only with full load sometime you feel power lag but that only when overload or high volume of cargo. Otherwise, looks good auto for logistics, definitely recommend and also buying shortly.

it offer you more value

I think Mahindra is the among the first company that has introduced the lithium ion battery on a three-wheeler, it a big decision. While it cost more, it offer you more value like longer range, quick charging and durability. This new cargo auto is certainly a big step for Indian EV development, and Mahindra engineers need lot of complement. What really big in Treo Zor is the 100 plus km of range and lesss than 4 hours of charging, a huge thing for any operator in India. Treo Zor should be your next vehicle.

Best in all

I want to buy this Mahindra electric cargo three-wheeler but I think this is ok for city drive only, you can't take it for longer delivery because of power and performance. For long routes only petrol/diesel vehicle is good and my business is to move cargo to outside city. I checked this vehicle at Mahindra dealership and the built is good. The power is also not bad because of charging no fuel cost and possible to earn big profit.

Highly recommend to anyone

I recently purchased this Mahindra electric cargo three-wheeler to carry vegetables and fruits in Chennai. Treo Zor is powerful vehicle for 600-700 kg of cargo pay load on city roads and very easy to drive. The charging is simple that goes for almost a day, and no cost of fuel! I find this new cargo electric auto best for my business in last 6 months, with such performance will sell my petrol auto and get one more Treo Zor. Highly recommend to anyone want to buy electric auto.
Compare of Treo Zor Competitors