Mahindra Bolero Maxitruck CNG User Reviews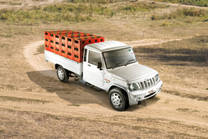 8 Reviews
From ₹7.26 Lakh*
*Ex-showroom Price in New Delhi
Bolero Maxitruck CNG User Reviews
Mahindra Pikup CNG Maxitruck

Sabazī'āṁ dī ḍhō'ā-ḍhu'ā'ī la'ī ṭāṭā atē lēlaiṇḍa vāhanāṁ dī varatōṁ karana tōṁ bā'ada. Maiṁ huṇa pichalē 8 mahīni'āṁ tōṁ bōlērō pika-apa dī varatōṁ kara rihā/rahī hāṁ. Bōlērō pika-apa gaḍī calā'uṇa la'ī kāfī āsāna hai atē cagī mā'īlēja vī hai. Kaibina uca guṇavatā vālā hai atē vāhana dī baṇī guṇavatā utama hai, iha vāhana nū bhārata vica chōṭē ṭarānsapōraṭarāṁ vica sabha tōṁ vadha prasidha baṇā'undā hai.

CNG Bolero best

Agar aap kam raning kost, jyaada pelod aur achchha prophit chaahate hain, to bolero pikap ka yah CNG pikup verient khareeden. Shahar aur baahar kaargo lod cargo transport ke lie kul milaakar achchha vaahan. Is CNG pickup ka injan mein koee dikkat nahin hai. deejal kee tarah hee mailej aur paavar. mahindra ne graahakon ke lie achchha seeenajee injan vikasit kiya. I pickup kee keemat bhee vaajib hai.

Mahindra bolero trucks CNG

एक बार सीएनजी फुल करवाने पर 250 प्लस लोड पर अनलोड 300 प्लस टॉप माइलेज

perfect for businuess

Mahindra Bolero Pikup CNG is very economic and very good for my businuess. When i bought this truck i was very happy and even my businuess is in very profit i would be even buying another one. CNG engine is very powerful and even delivers very good power and with that it gives good mileage as well. So it would be a nice and intelligent decision to buy one for businuess.

Price & performence good

Bolero Maxi Truck is bumper vehicle for city truck for light applications. Like city courier, e-commerce transportation needs, this vehicle is good. Mielage is better than the diesel variant, I get 13-14 km average in Pune, Nashik area.

Cost Effective

Bolero Maxitruck CNG is a ecomonical for everyday use. Drives well in rural and urban areas in all kind of road conditions. Being a CNG truck its eco friendly but does not compromises on performance, power and load carrying capacity.

Good Pickup for City- Bolero Maxitruck

Its an average Pickup of Bolero with four-cylinder with BS6 engine. I found this pickup best for city purpose. Build quality is just okay. It's just a ok mini truck in this price range. I think there are better option in the market in this budget.

Best for City Purpose - Maxitruck CNG

Bolero Maxitruck CNG BS6 in small commercial use for small delivery of goods up to 1150 kg within the city. It has 2523cc Engine with 4 engine cylinders with 5-speed Gearbox and MSI 2500 CNG BS6 Engine. Also, it has many safety features like Tubeless Tyres, Parking Brakes, Power Steering and more.
Compare Bolero Maxitruck CNG with Competitors