Mahindra Alfa User Reviews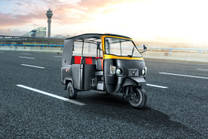 13 Reviews
₹ 2.88 - ₹ 2.89 Lakh*
*Ex-showroom Price in New Delhi
Alfa User Reviews
Bigger size

Bigger size auto rickshaw is Alfa for 3-4 passenger and also mahindra giving powerful engine with this auto. Other good thing abut Alfa driver cabin big and comfort and also strong body.

more load capacity

The new alfa get bigger cargo body, more load capacity, mileage is ok. super vehicle from mahindra.

good auto-rickshaw for my usage.

Mahindra Alfa purchased 3 months ago, good auto-rickshaw for my usage. Happy with performance-getting good mileage, bs6 engine no problem of noise or power, maintenance no cost so far and also 3/4 passenger easy carrying capacity. Buy Alfa auto not anything else. You will be happy, also the price is better.

Kunal Singh Rajput mera naam hua aise log pyar se

मैंने अपनी जितनी भी कार्य गाड़ी खरीदी vah sab ki sab acchi malish jaati hai achcha chalta bhi hai sab gadi chal rahi hai abhi sab gadi accha mileage deta hai achcha hai good condition condition bhi time karvate Hain

You can buy any auto-rickahw

You can buy any auto-rickahw bajaj, mahindra, piaggio. All of them good. The new Alfa from mahindra is also good, the engine noice is low and lot of feature also in this auto. I check this auto in the dealership, you can buy anytime.

Not happy

Not happy but this Mahindra auto because of mileage. It is not as claim by the company. The rickshaw built quality is oky, cabin for passegner is also big. But the mielage is low and my profit is down, so EMI is very high to pay as the diesel price is going up every day. May be you buy electric auto, one of my friend is using Treo and Ape electric, both of them are good one. Now fuel cost, battery charging is free and high income, low emi.

Strong and rugged auto

Mahindra Alfa is a auto-rickshaw for 3-4 people carries business in town or village roads. Strong and rugged auto, mileage is okay but no breakdown and take big load, 7 people also possible. Driving is easy, and big size auto than Bajaj.

Not happy with Alfa

Not happy with Alfa, mileage is less, suspension got problem in 6 months, and maintenance is ok. Better buy Piaggio Ape or Bajaj Maxima is also good options.

Not happy with alfa.

BS6 model price is high, not many changes done by mahindra.

Best Passenger rickshaw

Alfa Passenger BS6 has smooth suspensions for easy ride in village roads, pikcup is ok but mileage is high. You can buy this auto for 3-4 people carrying in any area. Nice auto rickshaw.

Good Auto

BS6 Alfa auto is the best. Price is reasonable and I liked the color and desing of this auto.

Easy to drive.

Using Alfa for feeder route in Narayana and Punjabi Bag in Delhi, the mileage is first class and super pickup of this auto rickshaw. You can buy this auto for attractive price for everyday passenger carrier business. Low maintenance.

better passenger cabin comfort

Alfa is not the best in the category, but offer better passenger cabin comfort and built quality okay. Bajaj Compact RE is good than Alfa.
Compare of Alfa Competitors