Isuzu S-CAB User Reviews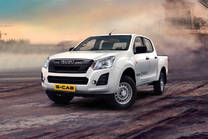 10 Reviews
From ₹ 9.14 Lakh*
*Ex-showroom Price in New Delhi
S-CAB User Reviews
Stylish pickup

Stylish pickup from Isuzu but price is very high. Buy Yodha or Bolero.

very costly

Isuzu pickup very costly. Go for Bolero with guaranteed performance and good for India road.

Highly recommend it

After using D-Max S Cab for over a year, I'm writing this because this vehicles is absolutely perfect in every area. The pickup is premium but the price is worth with tough built quality, features and Isuzu's engine with very high torque and power combinations. I'm using this for business needs for daily 200 plus km and no issue with performance. Highly recommend it if you want to pay more and look beyond Yodha or Bolero.

premium vehicle with safety.

Isuzu S CAB is more than 10 lakh price which is costly. The vehicle is good but not suitable price for Indian buyer. I checked this pickup at the dealership, the BS6 variant is impressive. Cabin look very very very good, features list and safety is best in the segment. A world class vehicle-pickup in you get in India. I'm using Bolero Camper but next vehicle is only Isuzu for my business, good & comfortable drive and premium vehicle with safety.

there is not better pickup that Isuzu

D-Max S CABIN is premium pickup but the price is high. Isuzu is offering this Pickup for business and personal use together. The market of this pickup is small but business people can buy it for comfort and also carrying good luggage. I liked the design, built quality and upmarket cabin of this vehicle. Better than any vehicle that is available in India. If you can afford there is not better pickup that Isuzu as they are famous globally for their performance and durability.

Bolero is cheaper

Mahindra Bolero pickup is better than Isuzu. Bolero is cheaper, get good resale value and top performance pikup in India.

on-road price in Bangalore?

I want a pickup, the S- Cab or D-Max which one is better? S-Cab is costly truck. D-Max on-road price in Bangalore?

Not affordable for me

High cost pickup from Isuzu, I got Bolero pikup.

Highly recommend for both commercial and personal.

I used the standard variant of D-Max S cab for my interior design business. The cargo deck is sizable with a lot of space to store and carry stuff around. The cabin quality is good, with a lot of feature that makes fun to drive. I'm happy with performance of this Isuzu. Highly recommend for anyone looking for both commercial and personal pickup.

Good Pikup

D-Max is premium pikup than Mahindra Bolero. Price is high and mileage is also not good. But quality vehicle. What is the on-road price in Trichy? BS6 model performance?
Compare of S-CAB Competitors