Euler Motors Hi Load User Reviews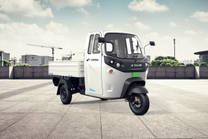 5 Reviews
From ₹ 3.79 Lakh*
*Ex-showroom Price in New Delhi
Hi Load User Reviews
Good option to diesel cargo rickshaw

If you want to save running cost on fuel but carry higher payload, then go for this new all electric cargo rickshaw. I checked this in Gurgaon, very powerful, big container body and payload capacity is high. Just like diesel rickshaw but no sound of engine and easy driving. Only thing is price is high but you can save a lot by running.

Good cargo rickshaw with power and payload

This e-cargo rickshaw is definitely a capable vehicle for high payload. I've test drive the auto- very easy to drive, power is also very much to carry and no noise or sound. I liked the cabin space and features inside, very modern type of auto-rickshaw now seen in India before. electric auto are now much much good for driver. also the running cost low, very soon people will buy only electric vehicle. Hiload is good auto you can uby for a price

Best Cargo Rickshaw in Right right now

I've seen 2-3 Euler Higload Auto Rickshaw in NCR running for some e-commerce company operations. Have driven one, the performance is smooth and zero noise. THe range is also long for day running. Payload is also high. Hiload e-ricksahw is bettern than diesel/cng any day. Go for this modern three-wheeler which is green and aslo help you good profit with.

good

New cargo auto Hi Load in electric is good than many other in the market. But the price is maybe high. How is the battery, charing ..?. But the company has made this auto design and big cargo body good, better than petrol vehicle. Checking the auto in my city now

Very powerful electric rickshaw

Very powerful electric rickshaw with 600 plus kg payload. Testing driving was good and also features like battery, telematics and Apps. a very modern rickshaw by a new brand but the only problem is price and charging points.
Compare of Hi Load Competitors