Eicher Pro 6025T
Change Truck
Be the first oneRate Now
This Model has expired
Price is for informational purposes only and the same may be subject to change. For details, please go through the T&C.
Explore Eicher Pro 6025T Alternatives
Pro 6025T Highlights
Sept 19, 2019: Eicher Trucks & Buses, part of VE Commercial Vehicles Limited, launched the Eicher Pro 6025T on 30th August 2016. At the front, there is the Semi-elliptical with nine leaves and anti-roll bar, while the VECV Bogie Suspension with 11 leaves are present at the rear. It is built on a wheelbase of 4,000 rpm.
The truck comes with a VEDX8 BS-IV 7.7-litre engine that can make a maximum power of 210 bhp at 2200 rpm, while the peak torque is 825 Nm coming at 1100-1700 rpm. The power is sent to the wheels via a nine-speed gearbox. It carries 220 litres of a fuel tank, and the turning radius of the truck is 7,200 mm.
The truck comes with a box body along with a day cabin placed on the chassis. Inside the cabin, there is a Hydraulic Power steering, a Driver Information Display, an Adjustable Driver Seat, etc.
Read More
Eicher Pro 6025T Price List (Variants)​
Eicher Pro 6025T is offered in 4 variants - the base model of Pro 6025T is 4000/CAB/16 CuM/Box Body and the top variant is 4000/BS-IV/14 CuM/Rock Body which come with 25000 Kgs.
View All Variants
Eicher Trucks Dealers in New Delhi
Mohan Tractors

Plot No 41, Road No 35,West  Punjabi Bagh,New Delhi

R.S. Ajit Singh & Co. (Automotive) Pvt.Ltd.(Delhi)

14/21, Samalkha Chowk, Opp Heera Public School, Kapashera Border,

Shree Motors Pvt. Ltd.

263A 1st floor,Vishwakarma Colony,M.B. Road Lal Kuan

Shree Motors Pvt. Ltd.

Kh. No.- 39/3, 39/8, 39/26, Opp Sai Mandir,,Metro Pillar No.- 695,Tikri Kalan
Eicher Pro 6025T Tipper- Expert Review
Eicher Pro 6025T - Expert Review
Overview
Tippers are one of the most important category of truck used in Indian market. With construction booming and supposed to continue the same way, these construction material carriers are surging in sales. There are many options available from various manufacturers, and one of the very popular tippers is Eicher Pro 6025T. A widely renowned tipper for its design, powerful engine performance, low maintenance and cabin comfort, it has swiftly become the choice of people.
Apart from construction sites, the truck can be used at ports and mining areas to carry loads in off-road conditions. The company has also opted for new generation design inside and outside the cabin to ensure that transporters get full value for their money. The tipper is available in four variants and two emission norms, BS-III and BS-IV.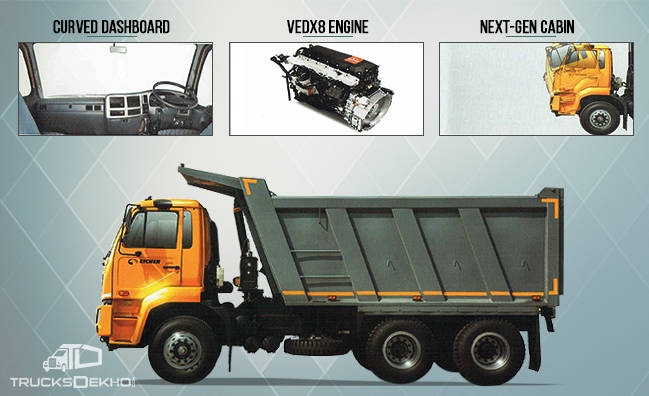 Specs:
Engine - VEDX8 7.7 Litre Diesel
Gross Vehicle Weight (GVW) - 25,000 kg
Wheelbase - 4,000 mm
Power Steering - Yes
Engine and Performance
Eicher Pro 6025T is powered by VEDX8 6-Cylinder 7.7 Litre 7,698 cc Diesel engine, which generates a maximum power of 220 hp @ 2,200 rpm and a pounding 850 Nm torque @ 1,100 - 1,700rpm. The high torque helps applications because of the applications and construction sites are required to move heavy loads on uneven turfs.
It also hits a top speed of 80 km/h which is good enough and decent, but a gradeability of 42.5% is a more crucial factor to move the truck on higher terrains. These numbers are achieved by the 9-speed ZF gearbox with a crawler gear. Also, the 430 mm diameter Pull Type Booster Assisted Clutch makes the transmission smoother.
Vehicle Built and Load Capacity
Both BS-III and BS-IV engines are available in two body types each—16 CuM box and 14 CuM rock (total four variants) with the same wheelbase of 4,000 mm, however turning radius is 7,900 mm for BS-III and 7200 mm for BS-IV models. These specs are fit to maneuver narrow or sharper turns, abundant in hilly areas. The tipper has overall length, width and height of 7,550 mm, 2,590 mm and 3,810 mm, respectively.
The Gross Vehicle Weight (GVW) of 25,000 kg is one of the highest in its class and supports a good payload capacity. The truck has a ground clearance of 285 mm which helps it maneuver bumpy and off-road conditions even with load full to its capacity.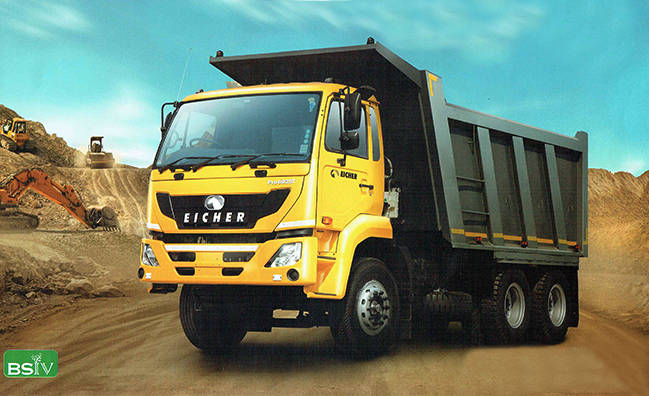 Handling and Suspension
The tilt and telescopic power steering helps maneuver the truck easily on any given ground and the driver too needs to put less effort while turning or moving around the hilly roads.
Eicher Pro 6025T has the best in class suspension system with 9 Semi Elliptical Spring Leaves with Anti Roll Bar at front and Bogie Suspension with 10 Leaves at rear. The ETB Wider Track front axle and Meritor Tandem Fully Floating Banjo Type Rear axle work to offer required drive balance.
Braking and Safety
With Dual Circuit Full Air S Cam service brakes and Pneumatic Hand Operated parking brakes are there to help the driver stop the tipper at safe distances. Equipped with cruise control, Eicher has made Pro 6025T stand out among its contemporaries in terms of safety.
Features like seat belt, hard chassis with 5 mm extra thickness, high strength material and rigid structure also provide extra safety to passengers in case of mishap and accident.
Design and Comfort
Aesthetically, Pro 6025T has a nice overall design with newly designed headlamps, revamped radiator grille and tweaked bumper. The easy to climb cabin structure with new side mirrors also play the part in making it look elegant.
The company has offered state of art features in Pro 6025T with major focus on driver comfort. The cabin is also equipped with a Driver Information Display, adjustable driver seat and other necessary features for a cozy drive.
Read More
Compare of Pro 6025T Competitors

Ex-showroom price in New Delhi
Pro 6025T User Reviews
0 Reviews, Be the first one to rate
Latest Pro 6025T Videos
Pro 6025T has video of its detailed review, specs, features explained & more. Watch our Latest video of Pro 6025T to know price, safety features, type of application & more.
Eicher Trucks and Buses win top Industry awards

Apr 14, 2022

EICHER PRO 6041 || Multi-Axle Haulage Truck

Nov 07, 2021

Eicher Pro 6035 | Key Features

Aug 11, 2021

Eicher Pro 6055 vs BharatBenz 5528TT | Specification Comparison

Jun 05, 2021

Tata 1212 LPT vs Eicher Pro 3012

May 04, 2021