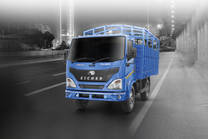 6 Reviews
₹ 14.11 - ₹ 15.05 Lakh*
*Ex-showroom Price in New Delhi
Pro 2059 User Reviews
I recommend this truck.

Value for money truck from Eicher in the 6-7T light cargo transport. This truck is giving mileage promise by the company, and the cargo deck is large enough to carry big consignments. I'm happy with the truck and not purchasing the tata LPT. If you want, then I recommend this truck.

light truck from eicher fine

This light truck from eicher fine if you want to deliver logistics in cities, like market load, parcel and courier. Easy to driver, compact and also powerful engine. I think the performance is as good as Tata truck or even better, the 2059 is a better options if you want than Tata truck. EIcher Pro 2000 trucks doing good in the market. Much impromvement by the company. You can buy this truck anytime.

not happy with Eicher

not happy with Eicher because I'm not getting the mileage, may be you purchase tata truck Ultra or lpt any. The mileage is not coming as the engine is big size?

You can buy this truck

Eicher is giving more powerful engine on this truck in the 6/7 T category. You can buy this truck for local trips, good for city and town. Overall ok truck from eicher.

the mileage is good

Buy Eicher pro 2059 for 6-7 T cargo business, the mileage is good but you can also check Tata and Leyland trucks in the category, if you want a better deal in price. But Eicher is not bad, this truck comes with good features that you don't find in the segment.

Performance is good

I purchased the Pro 2059 last year for e-commerce and FMCG delivery in NCR. Performance is good with 100hp engine size for any load. Also eicher cabin is comfortable and three people can fit in. The new suspension in this truck make delivery easy even in rough roads. The mileage is good but not the same I expect from Eicher. May be some service issue, rest everything perfect of this truck.
Compare of Pro 2059 Competitors