BharatBenz 3523R User Reviews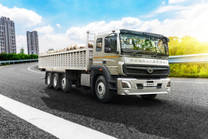 4 Reviews
₹ 36.26 - ₹ 37.40 Lakh*
*Ex-showroom Price in New Delhi
3523R User Reviews
Costly but good t12-tyre truck in the market.

I'm seeing more and more BharatBenz multi-axle trucks on highways, and this 12-tyre truck is among the most popular with fleet customers. I think the factory fitted cabin with safety and features, powerful engine and super quality aggregates make this truck strong in the category against Tata and Leyland. Price is little higher but the brand is gaining ground because the truck performance is good with no breakdown or any service issue.

Satisfied with performance, deliveirng good

I have driven quite a few heavy duty multi-axle trucks across the 30-50 tonnes segment. When it came to buying one for my own business, I chose the BharatBenz 3523 R. This is because this 12-wheeler multi-axle truck is the best you can buy at the price in the 35-tonnes segment. The build quality and load carrying capability is simply unmatched. But what's best is the performance, power and efficiency of the engine. The OM 926 7.2L BS6 engine produces a power of 241 hp and a peak torque of 850 Nm. The 6-speed gearbox paired to it makes for incredibly smooth drives and enhanced fuel efficiency.

Best truck for long haul cargo

BharatBenz 3523R is a strong truck to carry any type of heavy cargo on long routes with comfort and mileage. Using this 12-tyre truck in our fleet for market loan in all India routes, very good performance overall. No problme of mielage, service or payload, driver also happy with cabin comfort and easy driving type. OVerall good truck in the price range.

சிறந்த 12 டயர் டிரக்

நம்பகமான மற்றும் சக்திவாய்ந்த நீண்ட தூர டிரக்கை நீங்கள் விரும்பினால், பாரத்பென்ஸ் உங்களுக்கு 3523R இல் நல்ல தேர்வை வழங்குகிறது. வசதியான கேபின், புதிய தொழில்நுட்ப எஞ்சின் மற்றும் சிறந்த டெசிங் மற்றும் மைலேஜுடன் கூடிய வலுவான தொகுப்புகள். 35-டன் வகை திடமான டிரக்கில் ஒரு சிறந்த விருப்பம்.
Compare of 3523R Competitors

Popular BharatBenz Trucks