Bajaj Maxima X Wide User Reviews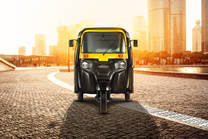 17 Reviews
₹2.45 - ₹2.47 Lakh*
*Ex-showroom Price in New Delhi
Maxima X Wide User Reviews
Large and spacious

For operators who want to carry extra passengers, the Bajaj Maxima X Wide is a perfect choice. The Bajaj Maxima X Wide is a wide body auto that offers a lot of space. At its price, it is an excellent choice for anyone who needs an auto rickshaw to make some extra profit.

No problem in mielage or maintenance

Just as the name of the Bajaj Maxima X Wide suggests, the auto rickshaw is exceptionally spacious and wide offering ample space for additional load and passenger carriage over short and medium distances. The vehicle does a pretty good job and the LPG engine is pretty capable, powerful ad well as fuel-efficient making for a very convenient and sustainable package that offers good profitability to commercial operators.

Okay Auto rickchaw

Bajaj Auto -riksha local vyavasaay ke lie achchha hai. achchha mailej, uchch gunavatta ka nirmaan aur majaboot vaahan. 3-4 passenger achchhe kebin aur aaraamadaayak seet ke saath yaatree aasaan. Shahar ke traffice mein draiving bhee achchhee hai.Paise ke lie mooly aoto riksha.

Paisa vasool, high mileage

2 saal pahale jab mainne puraane auto riksha chalaakar bajaaj X wide khareeda, to eeemaee adhik thee. Yah auto riksha un logon ke lie achchha hai jinake baithane kee aaraamadaayak jagah aur yaatriyon ke lie paryaapt jagah hai. bajaaj ka yah riksha vailyoo phor manee hai. Koee bhee transport business karana chaahata hai, to bajaaj oto riksha baajaar mein sabase achchha vaahan hai. Sasta aur sabase achchha, kam chalane kee laagat. Bjaja auto is besttttttt,,,,,

Bajaj RE kee tarah nahin lekin mileage ok

Main is auto-riksha ka use kar raha hoon local me, mileage 30 k se zadya ka kar raha hoon. Yah bajaaj RE jaisa nahin hai lekin kul milaakar achchha mileage aur peformance hai. Aap yah auto khareed sakate hain.

Bajaj auto-rickshaw value for money

Using this rickshaw for passenger 3/4 on city roads. happy with the performance. good mileage, low maintenance and better driving also. got good price from bjaaj dealer in Ahmedabad. good vehicle for mileage and maintenance. Bajaj rickshaw is the best always in India.

Best auto ricksahw

Bajaj has 3-4 passenger auto-rickshaw for al types of customer. You can buy anyone. One important point with BS6 bajaj auto is the engine is now less noise and mileage also improved, this is my experience with using 2/3 vehicles in last 1.5 years. So you get power and torque better to take even 4/5 people or more. So better revenue every trip, most drivers use the vehicle for overload but to get more more from carrying more passengers. Bajaj auto-rickshaw are capable for such use, don't worry. Buy this vehicle.

can take 4-5 people very easily.

On road price is high of this road in Bhopal, may be BS6 engine. But the petrol model is ok for city traffic and bad road also. This auto can take 4-5 people very easily.

Good profit by this auto-rickshaw.

I pruchased the Bs6 variant, passener happy with the comfort and big seat. I take 4-5 people in sharing type. Good profit by this auto-rickshaw. Bajaj best vehicle….

Good one you buy…

I liked this Maxima variant auto-rickshaw, running fine on village road also, carry 4-5 people on bad road also, not mileage problem, but BS6 engine has not reduce the sound of this vehicle.

high price, high maintenance.

Not happy with this auto. High price, high maintenance. Suspension got problem in one year, but company dealer replace. Other problem also coming. Visiting the dealer many many times to fix problme.

good one for city traffic.

Bajaj auto rickshaw is best than TVS, Piaggio and Mahindra. Anytime good mileage, new Bs6 engine is good one for city traffic.

engine is efficient and powerful.

Bajaj Maxi X wide is a better options for auto-rickshaw customer. I like this auto, design is not bad and BS6 engine in petrol is efficient and powerful. High-quality auto in India.

Low maintenance

Best Bajaj auto-rickshaw for passenger cargo. The CNG variant is good with high mileage and pickup also nice. Low maintenance is a plus.

Comfortable Cabin

More price than Compact RE, but This auto has more space, the passenger cabin is comfortable, wide seat. You can carry 3-4 passenger easily.

Useful for city traffic

Maxima X wide one of the top auto-rickshaw from Bajaj. Mileage is high and built quality is better. Useful for city traffic and also feeder routes.

top class pickup.

Bajaj Compact RE is a better auto than Maxima X. You get high mileage and top class pickup.
Compare Maxima X Wide with Competitors