Atul Elite Cargo User Reviews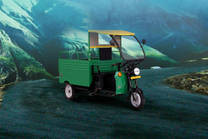 6 Reviews
From ₹ 1.04 Lakh*
*Ex-showroom Price in New Delhi
Elite Cargo User Reviews
Atul Elite Cargo

Atul ka yah ilektrik three-vheelar theek hai. Keval lcoal transport deliveryke lie upayog karen kyonki seema ab bahut adhik hai. Pelod kshamata uchit hai, seema bhee bahut adhik nahin hai. Lekin is tarah ke riksha ke lie kam keemat ya oke mailej ke saath chalane ke lie keemat achchhee hai. Shahar ya kasbe mein chhotee dooree kee yaatraon aur kam pelod dileevaree ke lie aap is vaahan ko seeenajee vaale vaahan ke bajaay maan sakate hain.

Low range auto rickshaw

This atul e-auto is not offering more range, the company says 80 but it is coming less than 60 km in single change. Also the power is not very high for heavy cargo load. So, if you want to buy e-auto for cargo then i don't recommend elite cargo. Go for more bigger battery vehicle with renege also high.

Waste of money

Waste of money on this electric auto…not powerful, battery gone in 8 months. Very costly to replace but warranty saved me money.

Cheap and best vehicle

Cheap and best vehicle from Atul in full electric version. Battery operations. So charge and run, not fuel cost. Electric auto is best any time than diesel. low maintenance and not diesel cost means everything today.

this is the best vehicle.

Atul Elite Cargo auto-rickshaw is cheap and best in the segment. You can't find a vehicle in this price that can carry enough cargo on smaller distance route. It is better than a peterol or diesel vehicle as the opearting cost is very low. Not maintenace if you take care of the batter and use the vehicle proper. Atul Auto also has power auto-ricksahw than the ELite cargo if you want, but lower budget customer, this is the best vehicle.

Better check out the Piaggio Ape electric auto.

Elite is not a powerful auto-rickshaw for heavy cargo deliveries. I have checked this auto at a dealership. Not impress with the built qulaity and also battery quality and higher charging time. I think the cargo deck is not big size. Better check out the Piaggio Ape electric auto.
Compare of Elite Cargo Competitors