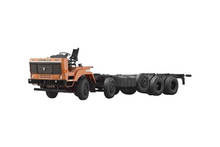 3718 IL User Reviews
Mighty and overwhelming performer

Being a transport agent, a flatbed trailer had always been the need for my business. After doing some extensive research for the right type of truck, the Ashok Leyland 3718 IL stood out to be the best possible option for my desired vehicle type. Having a wheelbase option of 6,660 mm, this vehicle has been efficient to handle in over all forms of terrains. Additionally, its 5,660cc H Series CRS TCIC engine proves to be quite efficient in pulling the load in my vehicle no matter what the load capacity be. Highly recommended for users looking for trucks with a payload capacity of 27,000 kg.

I highly recommend buying this truck

Leyland vehicles is very good to improve the business and nice drive too.... Mileage is not satisfied . not sure Thank you

This truck is just okay

front tyres are not giving mileage more than 30000 km average is 3.2km

I highly recommend buying this truck

The truck is quite good but the main issue is with milage my expectation.is upto 3.5kmpl but the vehicle gives me upto 3.2 kmpl.

I highly recommend buying this truck

Al 3718 is too gd.. bcoz of max load capicty of 25 ton..with decent average.. the toll tax is same as 20 ton passed trucks..
Compare of 3718 IL Competitors

Popular Ashok Leyland Trucks