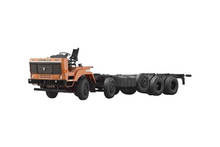 Key Specifications of Ashok Leyland 3718 IL
| | |
| --- | --- |
| Power | 180 |
| GVW | 37000 kg |
| Wheelbase | 6600 mm |
| Engine | 5660 cc |
| Fuel Tank | 430 Ltr |
| Payload | 27000 Kgs |
| Transmission | Manual |
Ashok Leyland 3718 IL Specs & Features
Performance
| | |
| --- | --- |
| Max Power | 180 |
| Displacement (cc) | 5660 cc |
| Fuel Tank (Litres) | 430 Ltr |
| Transmission | Manual |
| Max Speed (km/h) | 67 |
| Engine | H Series HA6ETI3U Turbocharged Intercooled with inline FIP |
| Max Torque | 660Nm |
| Clutch | 381 mm dia. axial s PR ing clutch with ceramic clutch disc |
| Emission Norms | BS-III |
| Engine Cylinders | 6 |
| Gearbox | 9-Speed |
| Gradeability (%) | 15 % |
| Turning Radius (mm) | 11800 |
Design & Build
| | |
| --- | --- |
| GVW / GCW (Kgs) | 37000 kg |
| Wheelbase (mm) | 6600 mm |
| Payload (Kgs) | 27000 Kgs |
| Overall Width (mm) | 2432 |
| Axle Configuration | 10x2 |
| Front Tyre | 11R x 20-16 PR |
| Rear Tyre | 11R x 20-16 PR |
| Overall Length (mm) | 11954 |
| Body Option | Customizable |
| Tiltable Cabin | No |
| Chassis Type | Chassis with Cowl |
| Cabin Type | No Cabin |
| Ground Clearance (mm) | 260 |
| Kerb Weight (Kgs) | 8200 |
Comfort
| | |
| --- | --- |
| A/C | No |
| Cruise Control | No |
| Navigation System | No |
| Driver Information Display | No |
| Telematics | No |
| Adjustable Driver Seat | No |
| Tiltable Steering | No |
| Arm-rest | No |
| Seat Type | Standard |
| Steering | Power Steering |
Safety
| | |
| --- | --- |
| Brakes | Air Brakes |
| ABS | No |
| Parking Brakes | Yes |
| Tubeless Tyres | No |
| Hill Hold | No |
| Fog Lights | No |
| Power Steering | Yes |
| Front Axle | Heavy duty Forged "I" beam reverse Elliot type Axle |
| Seat Belts | No |
| Front Suspension | U PR ated Semi elliptic multileaf |
| Rear Suspension | U PR ated Semi elliptic multileaf |
| Rear Axle | Lift Axle:- Forged "I" beam Reverse Elliot type First rear Axle:- Single-speed hypoid gear Axle. Second rear Axle:- Heavy duty Tubular dummy Axle |
Others
| | |
| --- | --- |
| Bulker Discharge Pipe | No |
| Bulker Air Inlet Pipe | No |
| Bulker Equipments | No |
| Bulker Electricals | No |
| Floor Material | No |
| Size (Cu. M) | No |
| Side Board Material | No |
| Width {mm (ft.)} | No |
| Rear Board Material | No |
| Height {mm (ft.)} | No |
| External/Interior Surface | No |
| Axle Types | No |
| Refrigerating Unit | No |
| Body Brakes | No |
| Temperature Range | No |
| Chassis | No |
| Electricals | No |
| Landing Gear | No |
| No. Of Axles | 3 |
| Floor Type | No |
| Length {mm (ft.)} | 10973 (36) |
| Body Material | No |
| Canopy Length | No |
| Water Tank Capacity (KL) | No |
| Water Tank Type | No |
| No. Of Valves | No |
| Pump Type | No |
| Bulker Type | No |
Explore Ashok Leyland 3718 IL Alternatives
3718 IL User Reviews
Mighty and overwhelming performer

Being a transport agent, a flatbed trailer had always been the need for my business. After doing some extensive research...

I highly recommend buying this truck

Leyland vehicles is very good to improve the business and nice drive too.... Mileage is not satisfied . not sure Tha...

This truck is just okay

front tyres are not giving mileage more than 30000 km average is 3.2km...

I highly recommend buying this truck

The truck is quite good but the main issue is with milage my expectation.is upto 3.5kmpl but the vehicle gives me upto 3...

I highly recommend buying this truck

Al 3718 is too gd.. bcoz of max load capicty of 25 ton..with decent average.. the toll tax is same as 20 ton passed truc...
Compare specification of 3718 IL Competitors

Ex-showroom Price in New Delhi
Ashok Leyland Trucks Dealers in New Delhi
B-37/C- Jhilmil Industrial Area\Ng.T Road\Nshahdra

Kh 428\Nrangpuri\Nmahipalpur\Nnear Shiv Murti\Nnew Delhi

Plot No. 1, Road No. 1\Nindustrial Area, Phase-1\Nmundka Udyog Nagar (South Side)\Nnew Delhi

Kh 428, Rangpuri, Mahipalpur, Nh-8\Nnear Shiv Murti, New Delhi

M-B Road Molar Band, Okhla 731/34 Lal Kaun Okhla\N Delhi

Ashok Leyland Truck dealers in New Delhi
Latest 3718 IL Videos
3718 IL has video of its detailed review, specs, features explained & more. Watch our Latest video of 3718 IL to know price, safety features, type of application & more.
Ashok Leyland introduces AVTR 4120

Apr 26, 2021

Ashok Leyland Dost | Variants Explained

Mar 31, 2021

Ashok Leyland Dost | Variants Explained

Mar 31, 2021

Ashok Leyland Heavy-Duty Tippers Portfolio Explored

Feb 22, 2021

Ashok Leyland Dost+ Specification Review in Hindi

Jul 29, 2020
Ashok Leyland 3718 IL In News
Popular Ashok Leyland Trucks