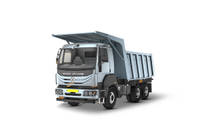 From ₹ 39.55 Lakh*
*Ex-showroom Price in
New Delhi
2820 Tipper User Reviews
Profitable for Transport Business

2820 Tipper I am using Ashok Leyland 2820 Tipper and I feel it is more comfortable than other trucks. It's good for cargo loading but short trips. Its ground clearance is good and the cabin is designed with facilities for driver comfort. It offers seat belts, cruise controls, parking breaks, etc.

Comfortable Driving with Ashok Leyland 2820 Tipper

I am driving Ashok Leyland 2820 Tipper and I found it more productive than other trucks. it offers superior mileage and an efficient drivetrain. The cabin of this truck is designed with driver comfortability and that's I feel very important because it increases the productivity of the driver. This truck comes with the characteristics of reliability, safety, and comfort.

Good for Long Routes

Ashok Leyland 2820 Tipper Truck is Designed with Higher Payload Capacity. I am Driving This Truck and I am very satisfied with Its Performance. It Gives me a Good Driving Experience. It Designed with Higher Payload Capacity, more Mileage, Comfortable Cabin, Highly Optimized Aggregates.

Best for All Roads - 2820 Tipper

My Friend is Driving Ashok Leyland 2820 Tipper from the last 5 Months and He Recommended Me to Buy the same when I was looking for buying a Good Truck for My Business. And now I happy with its performance. It's good for Highways and City Both. Its Payload Capacity is also good enough. It comes with Advance Features. Its cabin is also good.

Amazing Features - 2820 Tipper Truck

I have purchased Ashok Leyland 2820 Tipper 6 Months Ago for my business. I am quite satisfied with its performance. This truck is designed with high payload capacity. It gives good performance on any kind of roads. it's good in any Range of Trucks.

Good Performance of 2820 Tipper Truck

The Price of Ashok Leyland 2820 Tipper is a Little bit High Compared to Other Trucks, but I like Its Performance and Features that's why I recommend it. It has a Powerful Engine with good Mileage. Its Tubeless tyres and power steering gives the confidence to drive freely, and Its comfortable cabin doesn't let me feel tired during long journeys.
Ashok Leyland 2820 Tipper Comparison with Similar Tipper

Popular Ashok Leyland Trucks