How is Bajaj RE Maxima C Different from Others
Published On Apr 10, 2016By Lisa Pradhan
The recently launched Maxima C cargo vehicle from Bajaj Motors has been garnering a lot of attention lately. Falling into the category of the small commercial vehicle market, this unique product promises to deliver the highest power and the lowest operating costs in the three-wheeler CV segment.
Some of the unique features of Maxima C are:
1. Better turnaround time
Bajaj Maxima C comes with an engine capacity of 447 cc, as compared to the standard 436 cc provided by other vehicles in the segment. Also, the engine generates a power of 8.10 bhp @ 3600 rpm that is 12 percent more than other three-wheelers. Thus, Maxima C covers a greater distance and more number of trips, helping generate more income and higher profits.
2. Ease of navigation on uphill roads

Also generating a torque on the higher side, Maxima C can easily carry heavy loads such as cement and cylinders on uphill roads without the danger of toppling over. Compared to other vehicles which have a torque of 18 Nm @ 2200-2400 rpm, Bajaj Maxima has a 23 percent more torque at 23 Nm @ 2000 rpm.
3. Lesser maintenance costs

Standard vehicles require change of L.E bearing and barren piston. With a three times higher engine life of 100,000 km due to oil cooler and aluminum block with iron cast lining, Maxima C guarantees huge savings on maintenance costs. 4. Better clutch life
Maxima C owners have the advantage of a better power clutch as the clutch life lasts for around 35,000 km, which is much higher than the 10,000 km offered by other three-wheelers in the segment. Bajaj's new offering has a dry clutch similar to heavy vehicles like trucks, thus providing more stability and dependability on the roads. Thus, the frequency of repair is less, ensuring higher savings in terms of maintenance.

5. Trouble-free ridesStandard three-wheeler cargo vehicles have normal coupling and need attention every 20,000 km. But with free maintenance up to 1,00,000 km (which is five times more than competition) and heavy duty CV shaft like medium commercial vehicles, Maxima C ensures trouble free and tension free rides for years.
6. Better suspension, safer goods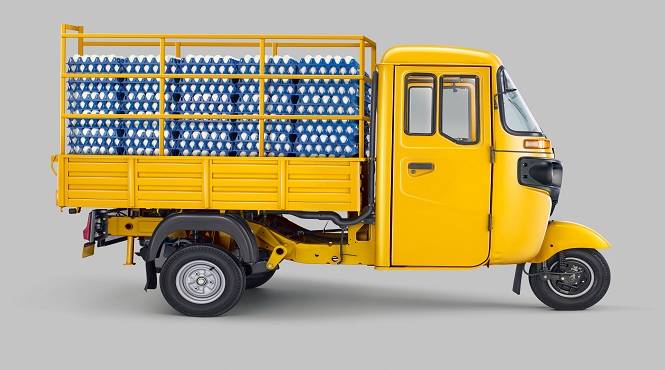 Fitted with top-of-the-line power suspension, Bajaj Maxima C ensures zero damage to products, even as fragile as egg crates, in transit. Unlike other three-wheeler cargo trucks which are equipped with single shock absorber at the front and rubber compression spring shock absorbers at the back, Bajaj Maxima C comes with front twin shock absorber and hydraulic rear shock absorbers. The vehicle also assures good driving comfort due to smooth movement.
See Also:
Lohia Auto Launches Several Vehicles at Auto Expo 2016
Auto Expo 2016: Atul Auto Showcases CNG Vehicle 'Atul Gemini'