Montra E Rickshaws & 3 Wheelers
Montra, a part of TI Clean Mobility which is a subsidiary of Tube Investments of India, is a new entrant in India's fast-growing last-mile electric three-wheeler vehicle segment. Introduced its first vehicle-an e-auto-Montra Super Auto.
Montra aims to offer modern and advanced last-mile mobility solutions for the Indian commercial sectors that do not just perform well and are sustainable for the environment but also offer a great operating experience with several unique technologies and advanced features that are first-in-the-class.
Montra Trucks In India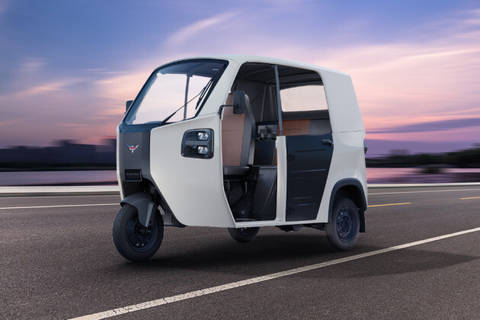 3
Variants Matching Your Search Criteria
Load More Trucks
That's all folks
Find Montra Truck Showrooms in Your City
Highlights of Montra
Montra is right now offering only one e-autorickshaw/electric three-wheeler in the Indian market while it is planning to launch a few more vehicles in the same segment, as well as for the cargo carrier segment. The Montra is focusing on clean, green, and efficient last-mile transportation solutions both for passenger and load carriage purposes.
Popular Trucks
The solo model offered by Montra right now is the Montra Super Auto. The electric three-wheeler/e-auto comes with a modern and distinct design and some advanced technologies that sets it apart from other vehicles in the segment. The Super Auto is truly super and comes with exceptional capacity, ample space, and additional seating capacity that most other e-auto-rickshaws in the segment.
The vehicle has a range of 160 kms which is the best in the segment and can hit a top speed of 55 km/hr which is seriously impressive. Performance and load capacity are top notches and along with that technologies like the battery sensors, the My Montra App connectivity, and dual-tone interior design make the vehicle a highly modern and cost-effective package.
Brand USPs
Montra has grown to be a known name in the electric three-wheeler segment even with only one model offered by the Montra right now. This is particularly because the Montra has offered the finest quality in terms of build, technology, performance, and efficiency as well as interior comfort and journey experience.
The Montra has been known for the powerful motor and high-capacity battery it has given in the Montra Super Auto. A top speed of 55 km/hr and a range of 160 kms on a single charge is seriously impressive for an electric three-wheeler at that price point and in the segment. Not just that, the interior and exterior design is unique and offers superb appeal along with ample space and great comfort. Vehicle diagnosis features and the convenience of maintaining the vehicle through an app are one of the key features that are rare in the segment.
Network and Reach
Mantra has recently entered the electric vehicles market in India but has been a huge success constantly launching new dealerships and service centers throughout the country.
Key Highlights of Montra
| | |
| --- | --- |
| Popular Model | Super Auto |
| Dealers | 26 In India |
| Expensive Model | Super Auto |
| Affordable Model | Super Auto |
Latest User Reviews on Montra Trucks
Naya aur modern features se bhari

Montra Super Auto khareedne ke baad mein sach mein hi manta hoon ki yeh ek "super" auto rickshaw hai. Iss auto rickshaw ...

Stylish aur capable

This new electric auto comes with very attractive design and the specs are also impressive. I think this will become pop...

Value for money, e-rickshaw

I recently bought the Montra Super Auto and I feel the auto rickshaw is absolutely the best you can buy in the electric ...
Montra Truck Images

Frequently Asked Questions on Montra
What is the lowest priced truck model in Montra
The Lowest priced model of Montra is Super Auto with the price of Rs ₹3.02 Lakh
What is the highest priced truck model in Montra
The highest priced model of Montra is Super Auto with the price of Rs ₹3.02 Lakh
What are the new launches from Montra
The latest commercial vehicles of Montra are Super Auto & more.
What are the popular commercial vehicles of Montra
Super Auto & more are the popular trucks including light & heavy commercial vehicles.
How many Montra dealers are available in India?
26 Montra dealers are available in India. Find out the nearest Montra dealer in your city
Popular Electric Commercial Vehicles
Further Research on Montra