Euler Motors E Rickshaws & 3 Wheelers
Gurgaon-based Euler Motors, an automotive #technology player, wants to offer a sustainable, electric future to Indian last-mile transportation. To achieve this ambitious goal, the company has been developing last-mile all-#electric #vehicles that are highly powerful, packed with modern features and equipped with the latest technologies.
Euler is offering the newly developed HiLoad #cargo-three-wheeler that is completely green and offers a far more compelling value proposition than the conventional IC engine vehicles. The HiLoad is the most powerful, high payload and most practical three-wheeler on offer. Priced attractively, the HiLoad is offered multiple variants to suit the price and applications of the customers.
Designed and developed in India, the HiLoad has undergone extensive testing and validations across all geographical and driving conditions. Since its launch, the #HiLoad has received encouraging customer response, and Euler is trying to expand its production capabilities to serve the growing demand for its vehicle
Euler Motors Trucks In India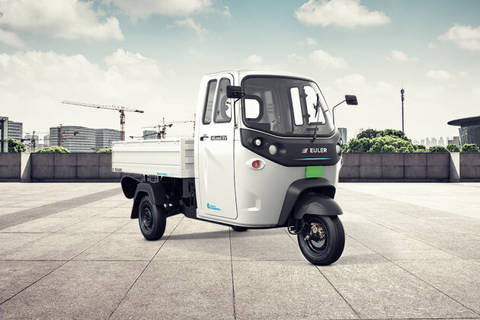 ₹3.94 - ₹4.30 Lakh*
Power

14 hp

GVW

1413

Payload

688

Fuel Type

Electric
4
Variants Matching Your Search Criteria
Load More Trucks
That's all folks
Highlights of Euler Motors
Euler Motors is an automotive technology startup that aims to offer highly specialized and innovative last-mile mobility solutions for the Indian logistics/transportation/supply-chain/cargo shipping markets. The Euler Motors aims to make an easier transition to EVs in India by offering superior, affordable utilitarian alternatives to traditional IC engine mobility.
The Euler Motors aims to offer high-end and practical mobility solutions for the Indian commercial vehicle sectors catering to the needs of e-commerce, 3PL businesses, and transporters in the Indian transportation market. The Euler Motors designs and manufactures road-ready, sustainable last-mile vehicles for logistics solutions that are optimized for Indian roads, operating conditions, and duty cycles. The company has been growing fast with the launch of its new and advanced electric cargo three-wheeler/auto-rickshaw/e-auto that boasts effective and efficient performance along with advanced features and enhanced capabilities.
Truck Ranges
Euler Motors is focusing on the last mile mobility segment in India's commercial vehicle sector designing and manufacturing advanced, capable, and highly electric three-wheelers tailored for Indian markets and Indian business purposes. With only one vehicle available in the market right now, the Euler Motors is constantly expanding its range of products, designing and developing advanced last-mile mobility solutions/greener vehicles to accelerate the adoption of electric vehicles by mass customers and help India achieve a greener and more sustainable mobility sector.
From cargo carriers to passenger-carrying purposes, the Euler Motors aims to offer electric vehicles that will serve all kinds of needs and will revolutionize the field of three-wheelers/auto-rickshaw in the Indian market with reliable, durable, and affordable vehicles. The auto-rickshaw/three-wheeler segment in India is extremely competitive and highly versatile with numerous Euler Motorss offering a wide range of options across various categories of vehicles including auto-rickshaws, totos, electric cart loaders, and electric cargo carriers.
Euler Motors right now offers a very capable and versatile load carrier, the Euler Hiload a full-electric battery-operated e-auto/three-wheeler that comes at a price range of ₹3.50 to 3.55 lakhs.
Popular Trucks
With its plan to expand its portfolio of three-wheelers in the Indian market, Euler motor currently offers one extremely popular, capable, and versatile electric three-wheeler load carrier that is built to serve a wide variety of needs in the Indian commercial vehicle/transport sector.
The Euler Hiload cargo 3-wheeler/auto-rickshaw, the sole model from the Euler Motors available in the Indian market comes at an affordable price range of ₹3.50 to 3.55 lakhs. The vehicle features exceptional load-carrying capabilities with ample cargo space and excellent range and battery capacity. The model has been popular for its convenience, and ease of driving as well as a range of advanced technologies and modern features integrated into the vehicle by Euler Motors.
Brand USPs
Euler Motors aims to offer reliable, affordable, and highly capable last-mile mobility solutions in the Indian market. The Euler Motors addresses the key points that act as barriers to the adaptation of EVs in India and addresses them with advanced technologies and features integrated into their vehicles. The Euler Motors has one very popular and capable load carrier electric three-wheeler and has been planning to launch a few more electric three-wheelers for the Indian commercial sector.
Network and Reach
Euler Motors is not just expanding its portfolio of electric three-wheelers but also its network of dealerships and service centers to make its products and services accessible all across the nation.
Key Highlights of Euler Motors
| | |
| --- | --- |
| Popular Model | Hi Load |
| Expensive Model | Hi Load |
| Affordable Model | Hi Load |
Latest User Reviews on Euler Motors Trucks
Powerful and efficient electric cargo 3 wheeler

This Euler motor electric cargo comes in 3 variants open, semi-open and fully closed which gives option for buyers as pe...

The Powerhouse of Performance!

Euler Motora Hi-Load is an exceptional marvel in the world of motors! With unmatched power and precision, this motor red...

Modern aur shaktishaali

Bas kuch mahine pehley hi maine Euler Motors Hi Load khareeda. Abhi tak is electric cargo carrier ne koi bhi complaint k...

THis E rickshaw good for local delivery

Hi Load Auto Rickshaw very good gadi, Electric vaahan ke bavajood, is Gadi mein sab kuchh hai. bhari paylaod, dr...

Powerful Electric auto

I check this auto in NCR last week. liked this specification and overall built quality. HiLoad like vehicle in electri...
Euler Motors Truck Images

Frequently Asked Questions on Euler Motors
What is the lowest priced truck model in Euler Motors
The Lowest priced model of Euler Motors is Hi Load with the price of Rs ₹3.94 Lakh
What is the highest priced truck model in Euler Motors
The highest priced model of Euler Motors is Hi Load with the price of Rs ₹4.30 Lakh
What are the popular commercial vehicles of Euler Motors
Hi Load & more are the popular trucks including light & heavy commercial vehicles.
What are the vehicle bodytypes offered by Euler Motors?
Euler Motors manufactures various vehicles like 3 Wheeler.
Popular Electric Commercial Vehicles

Further Research on Euler Motors